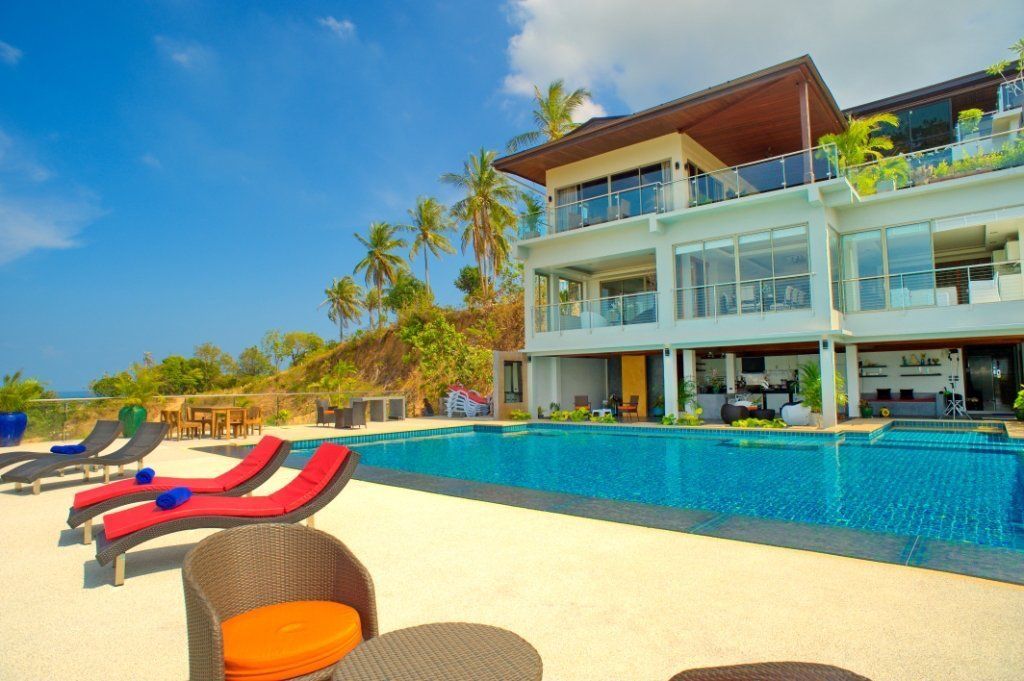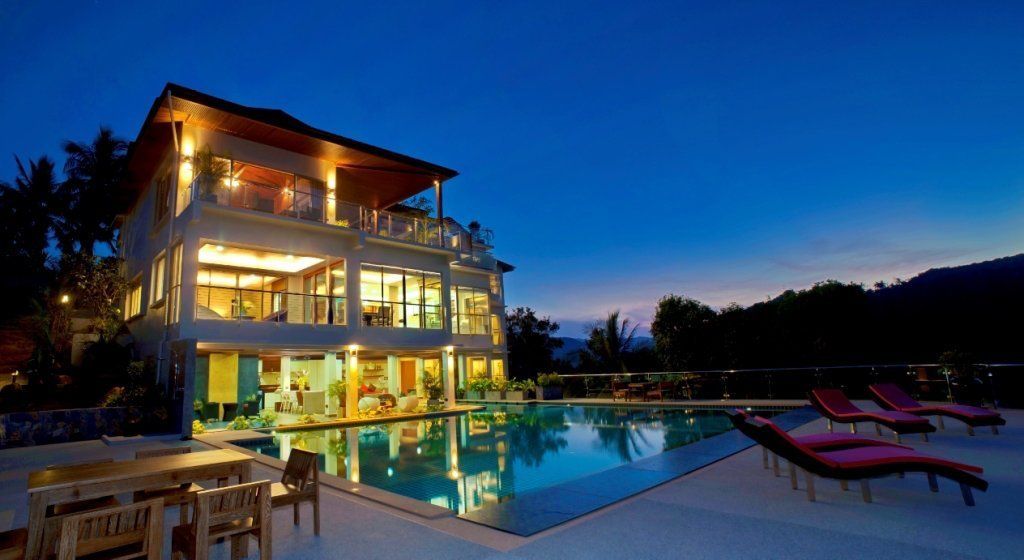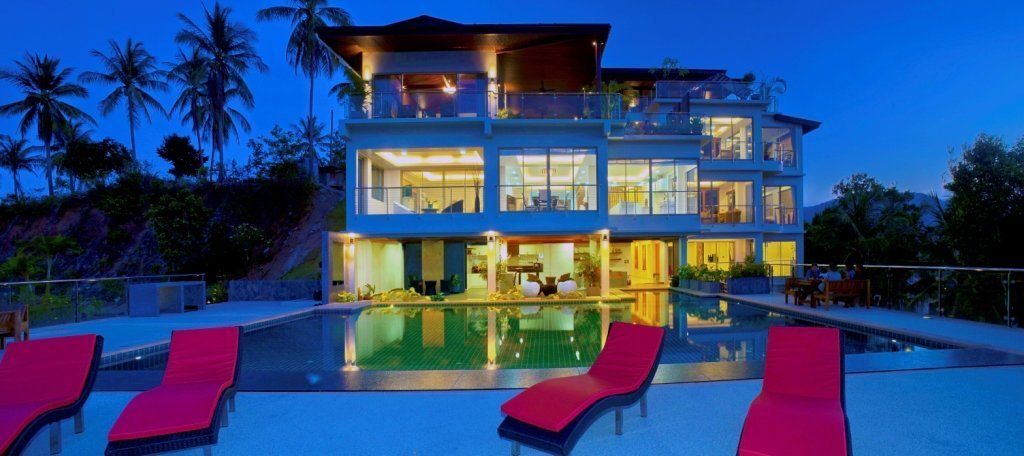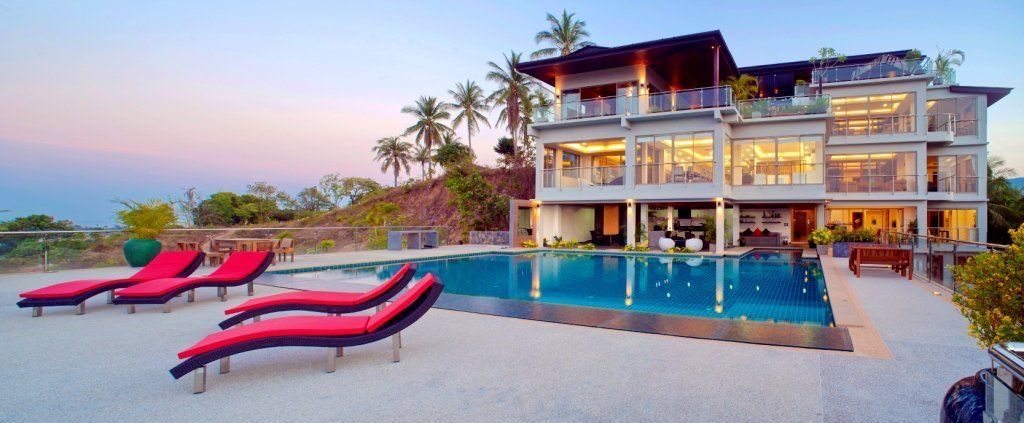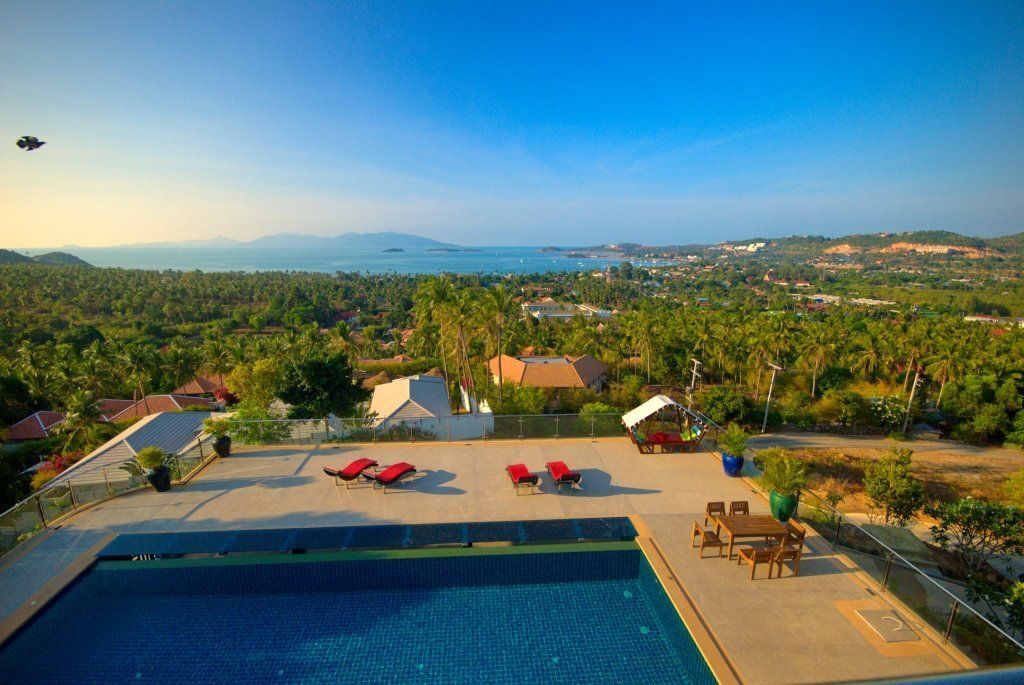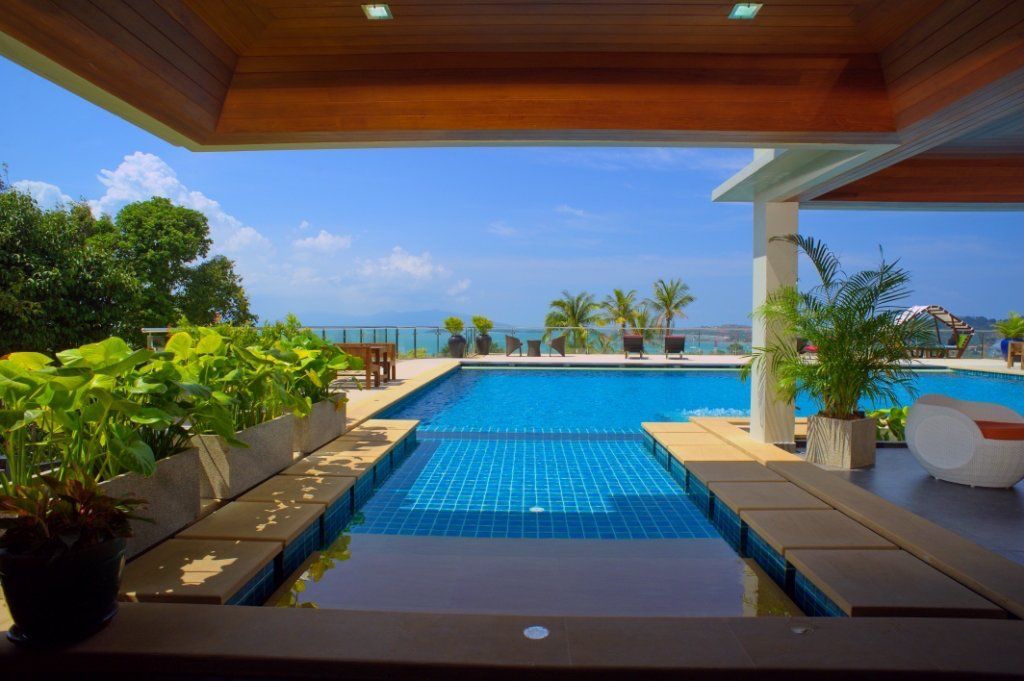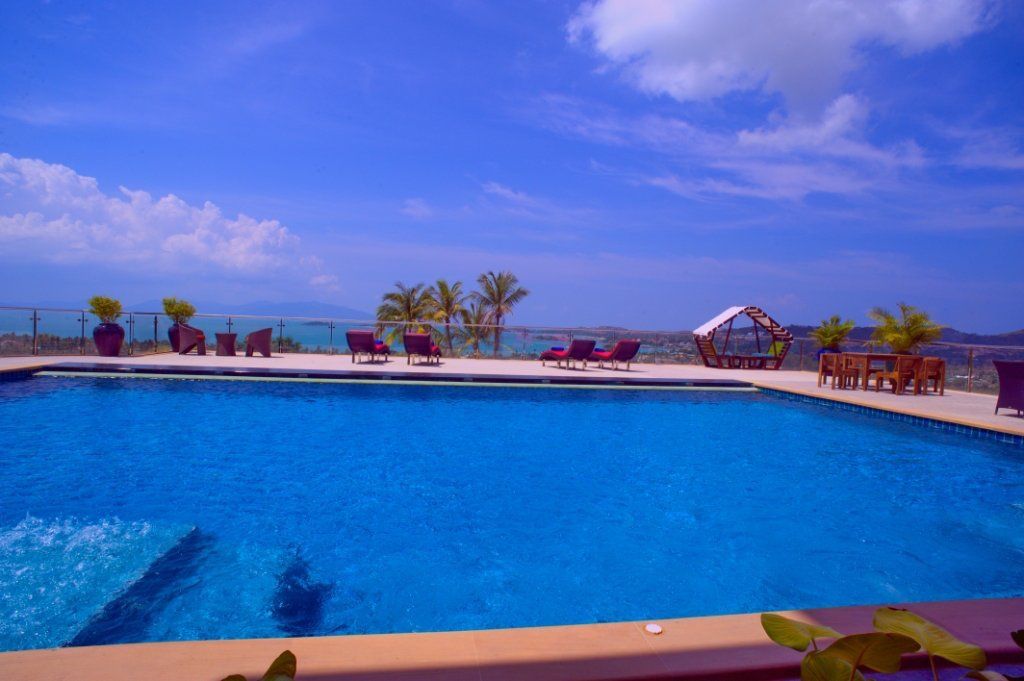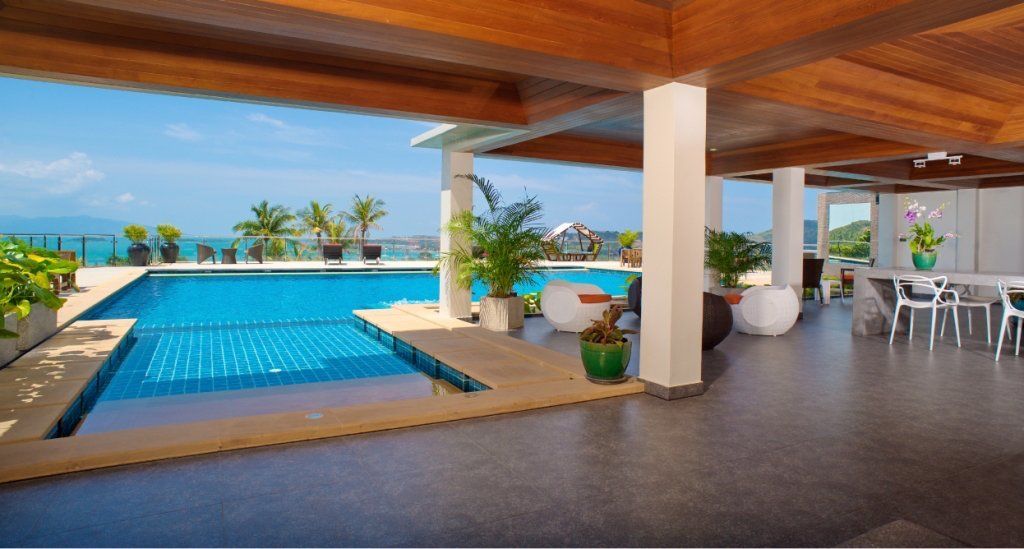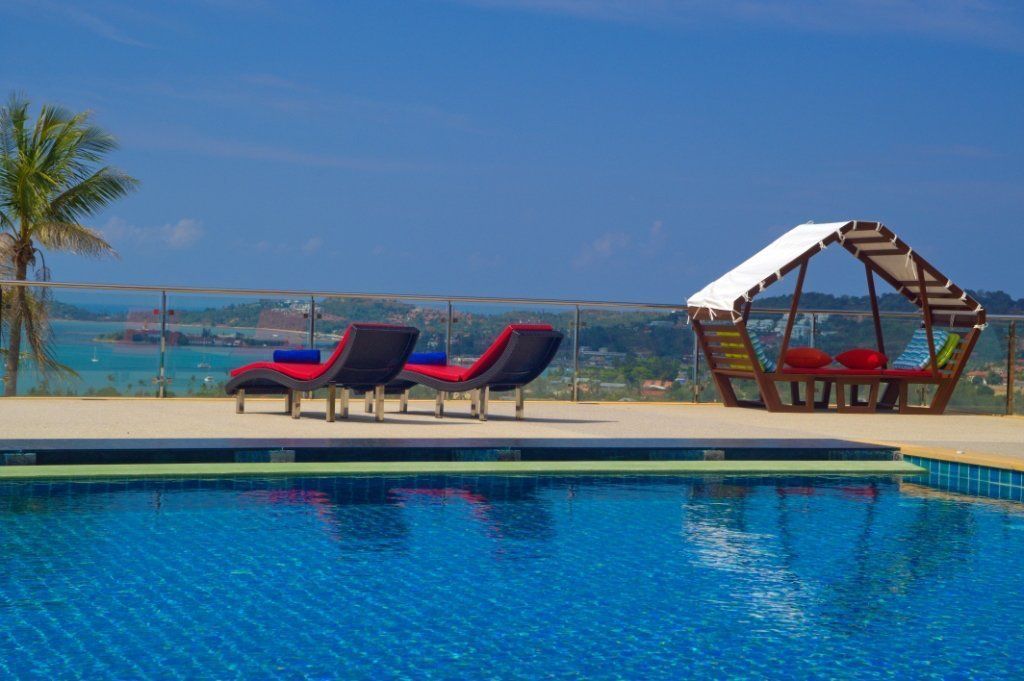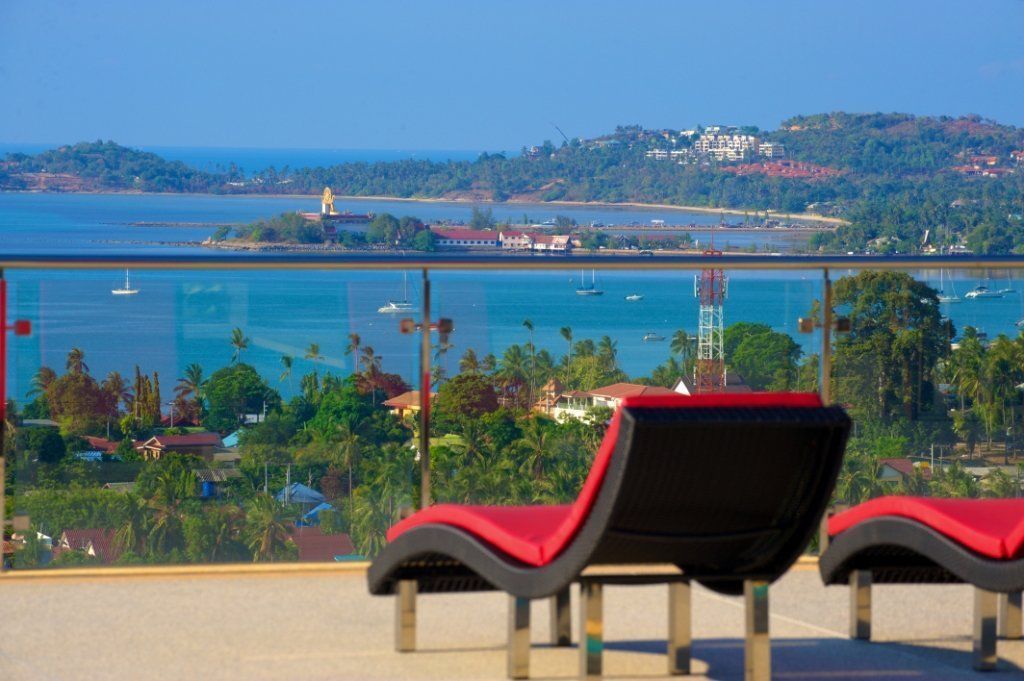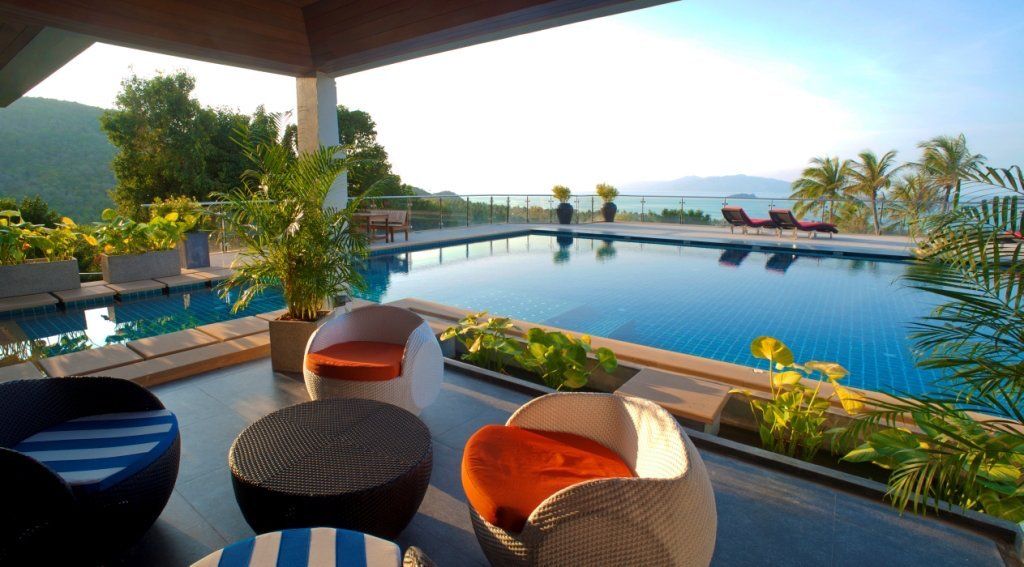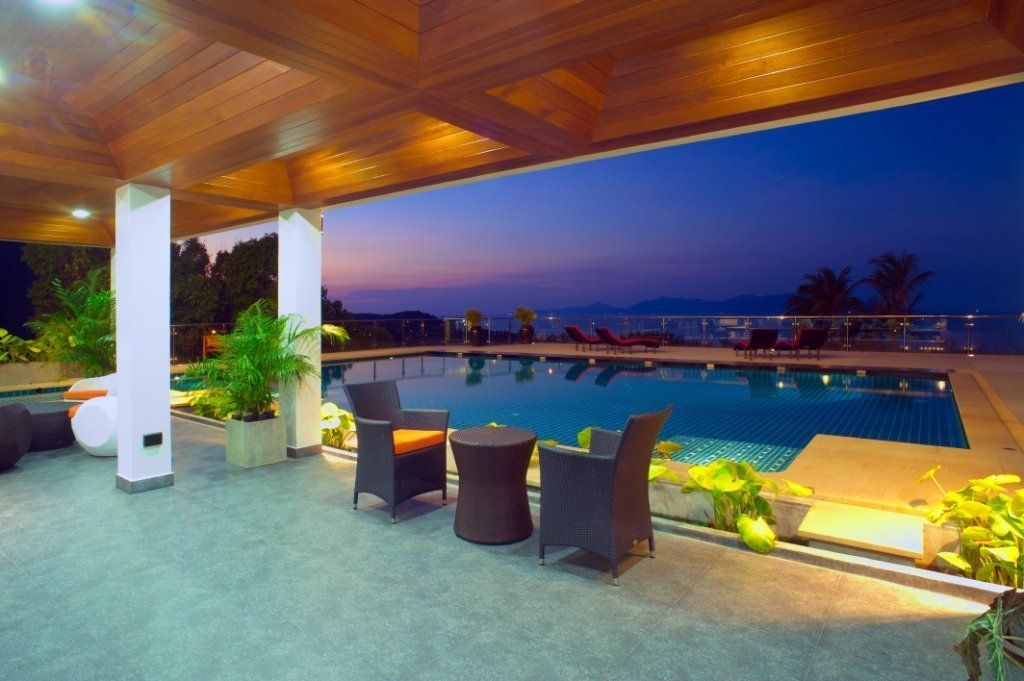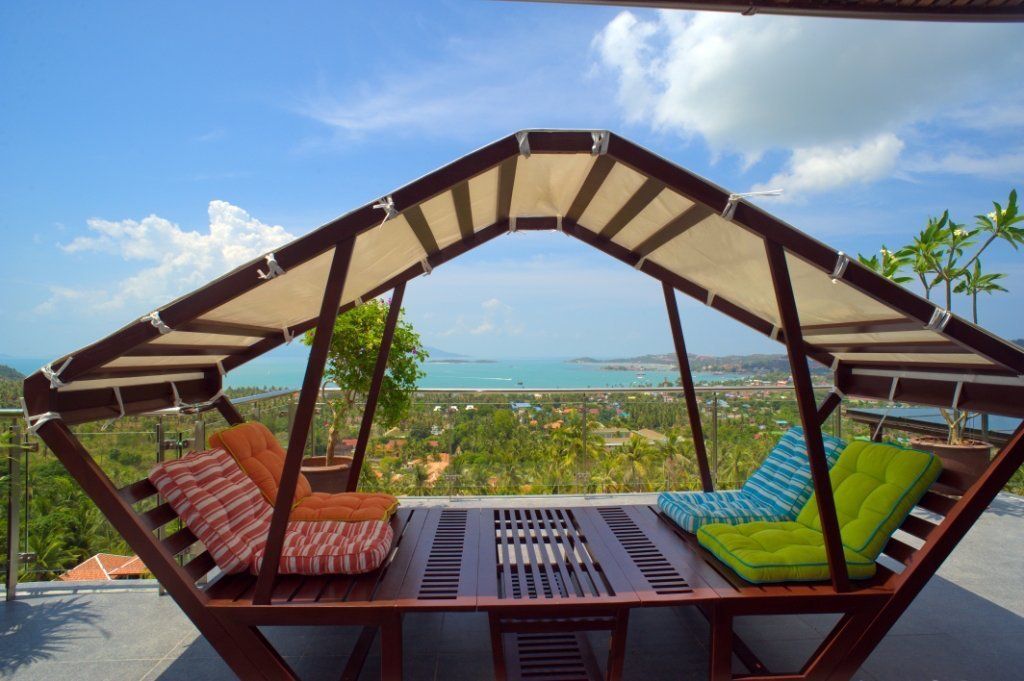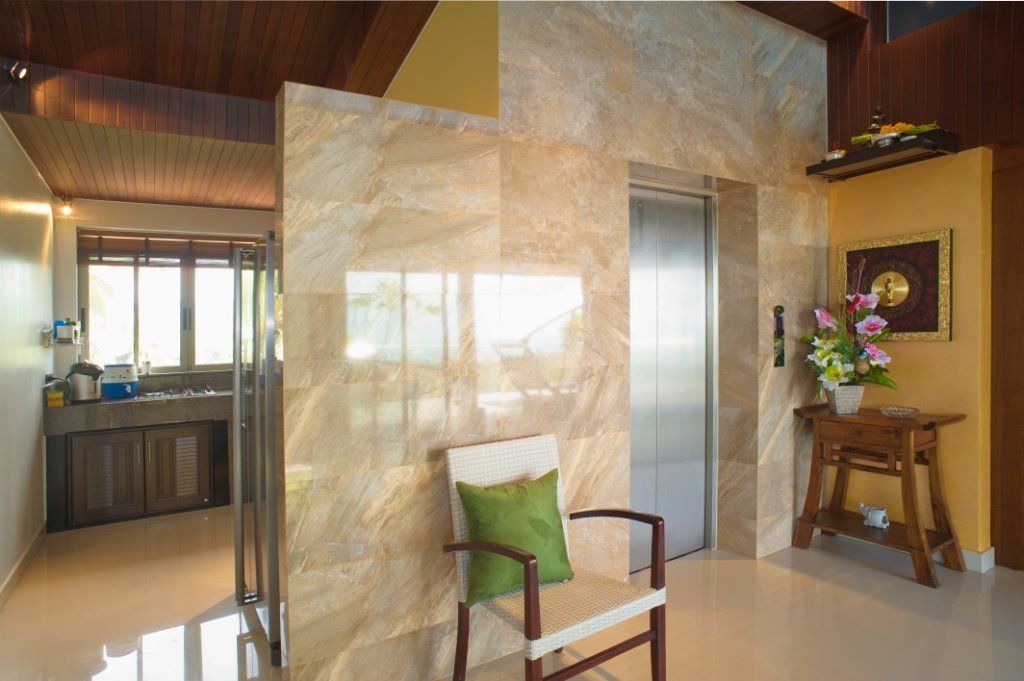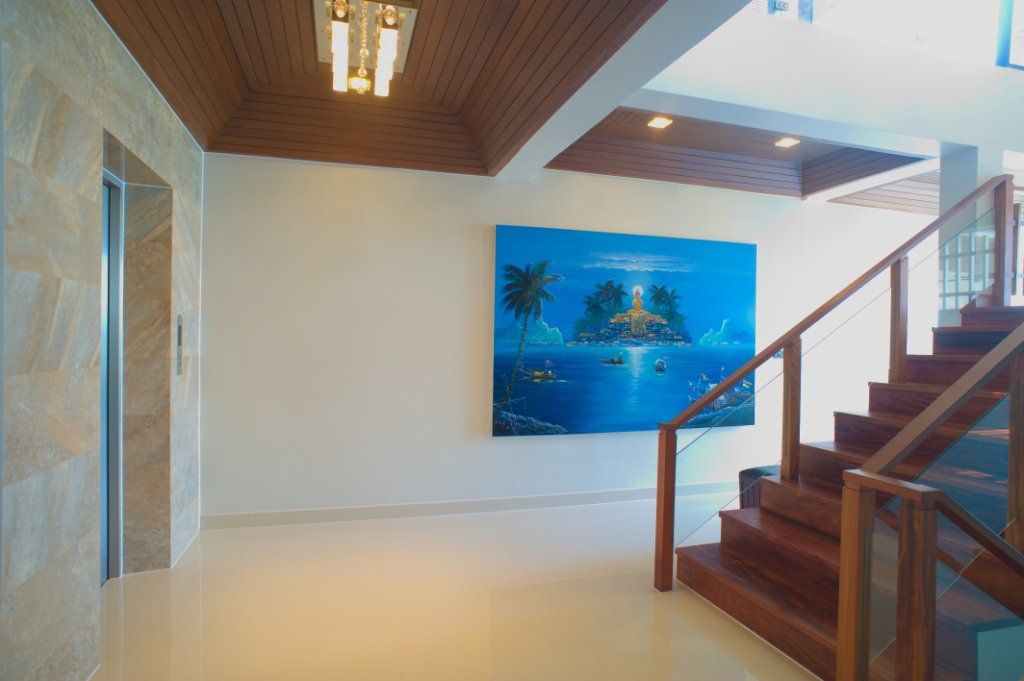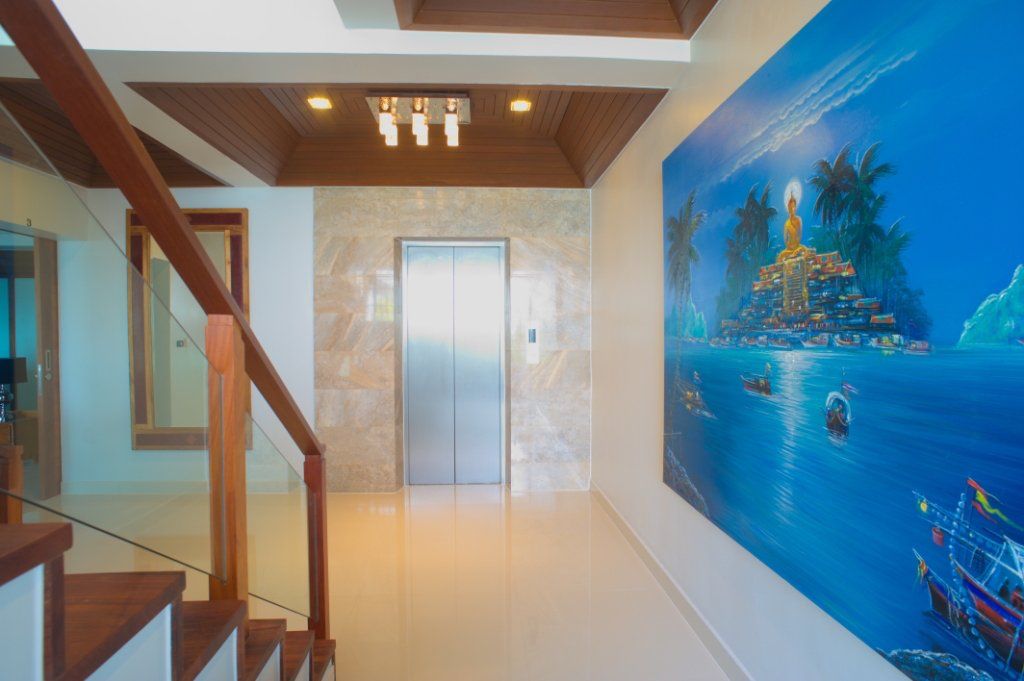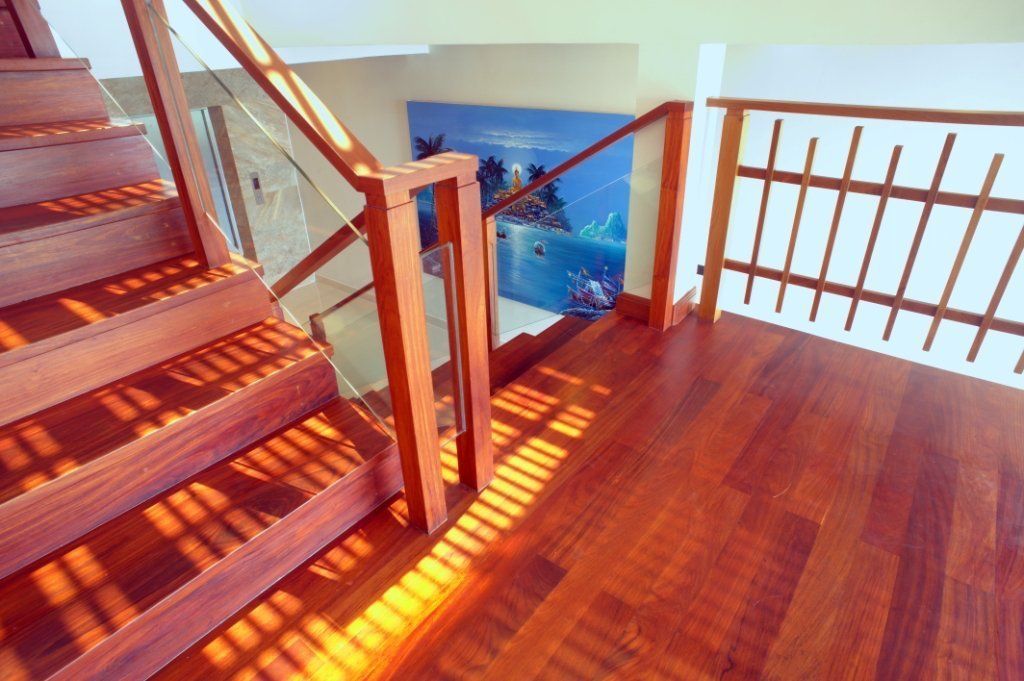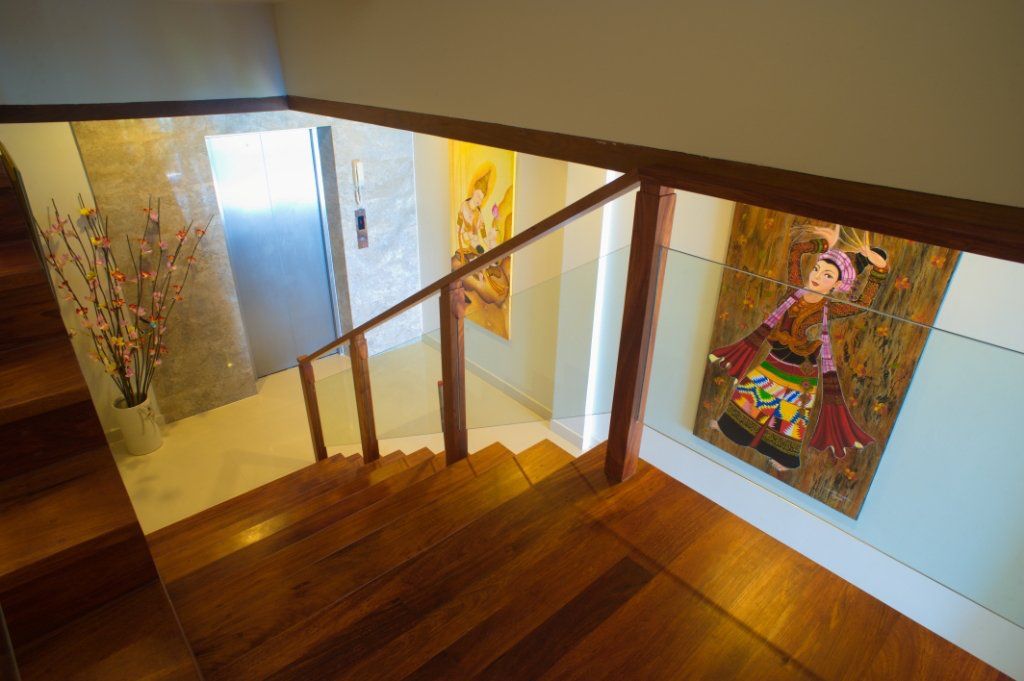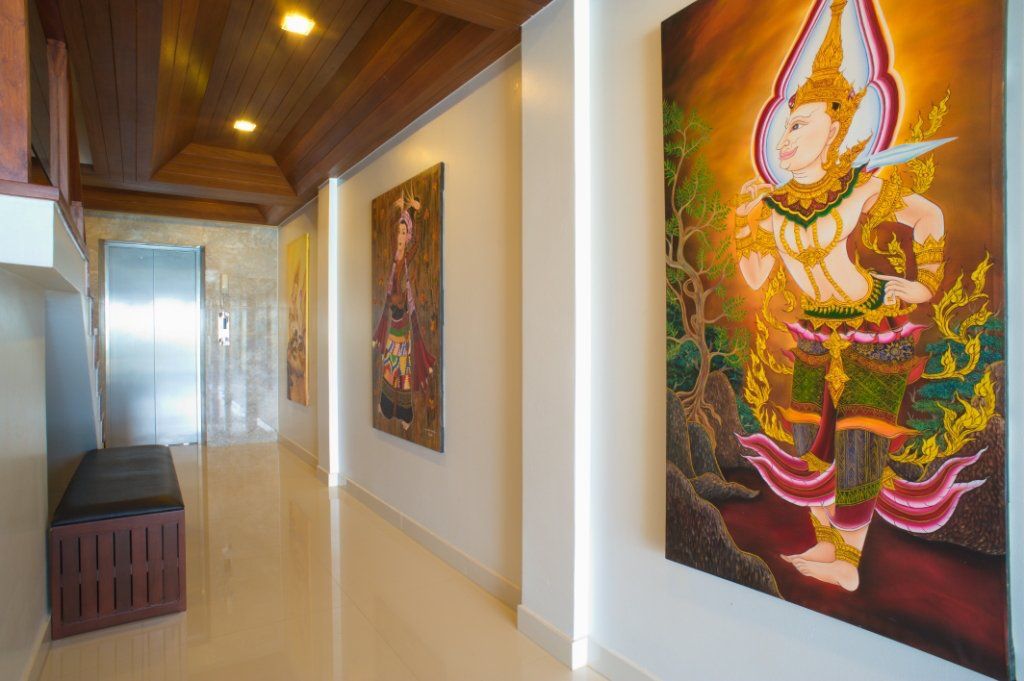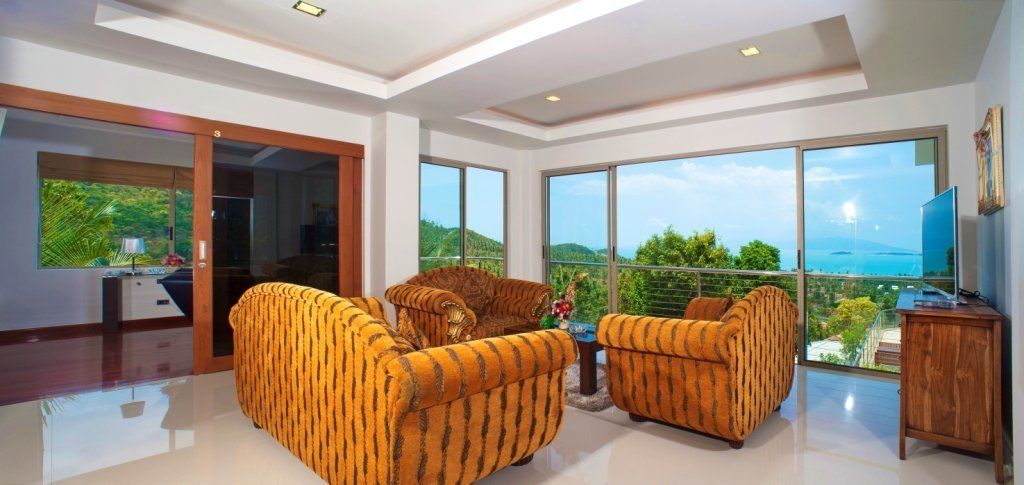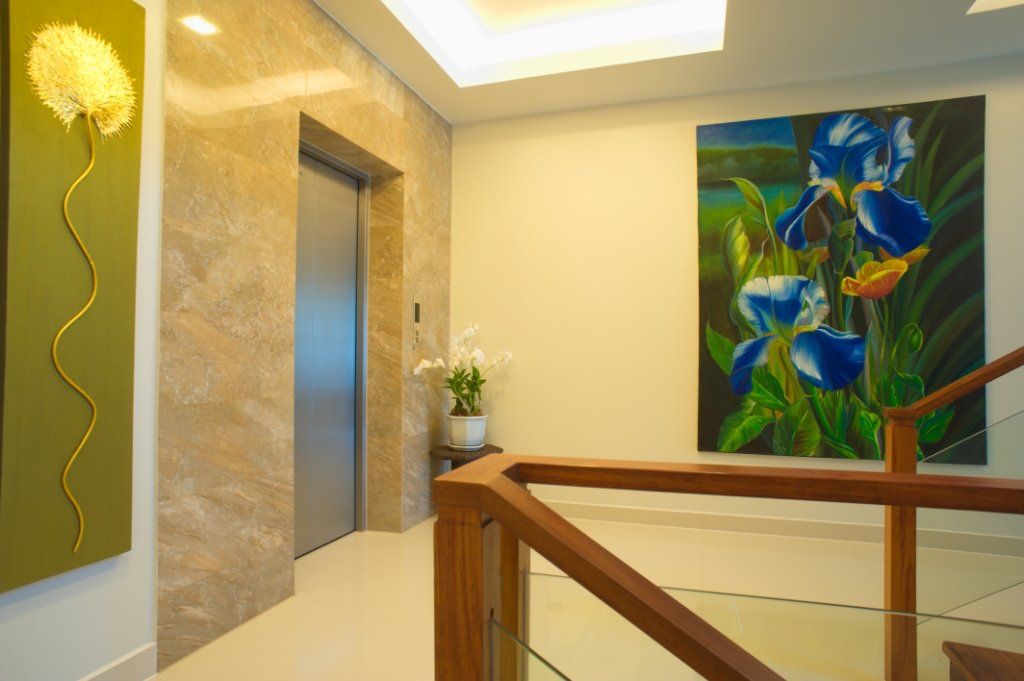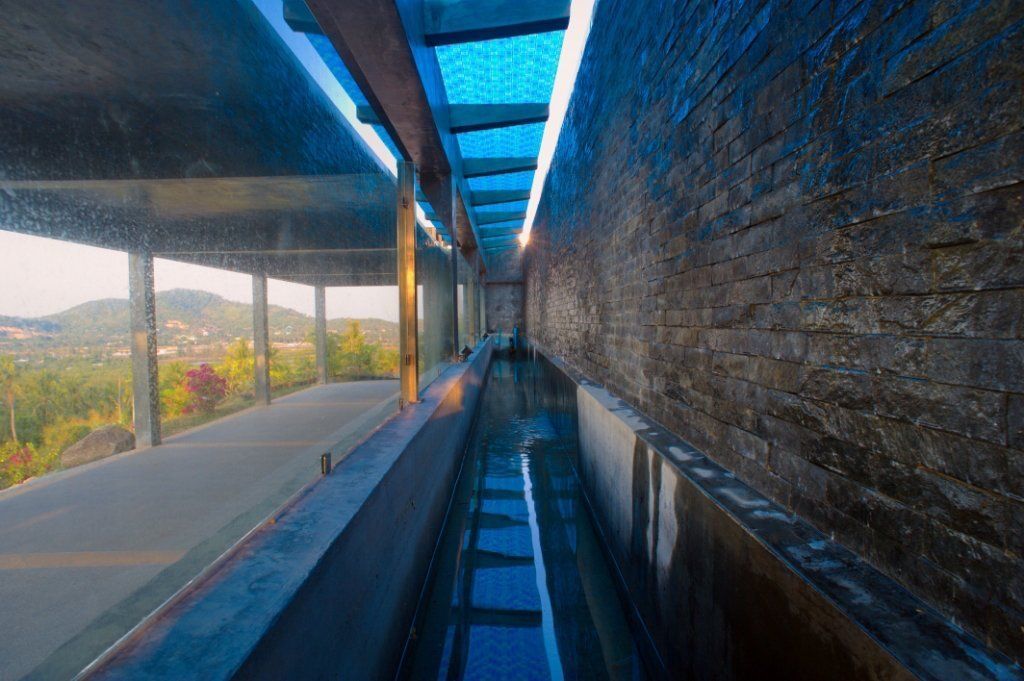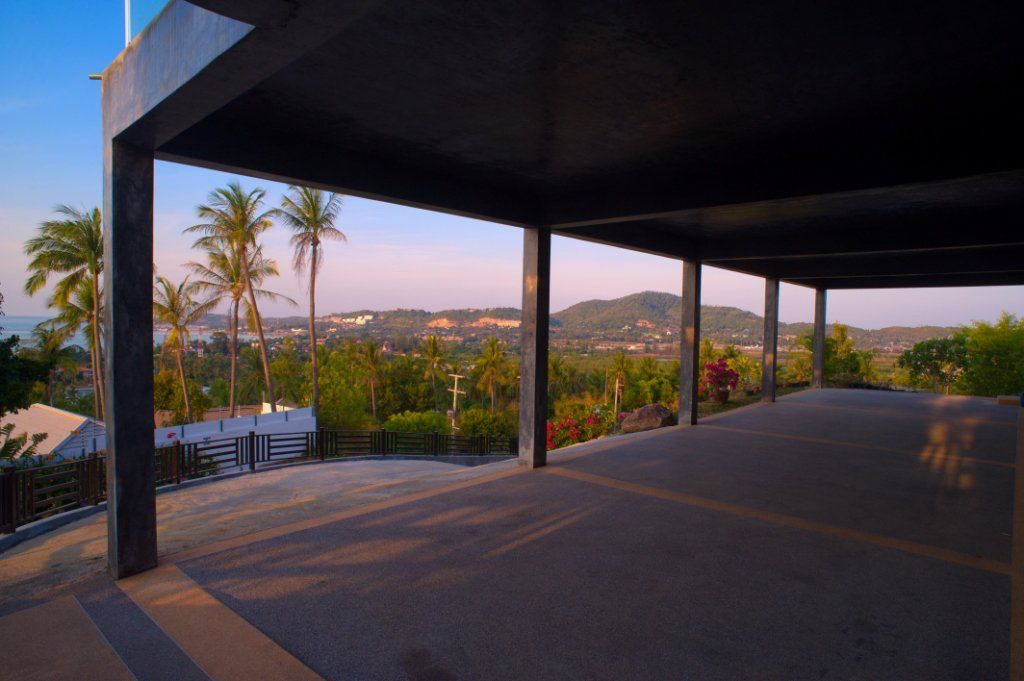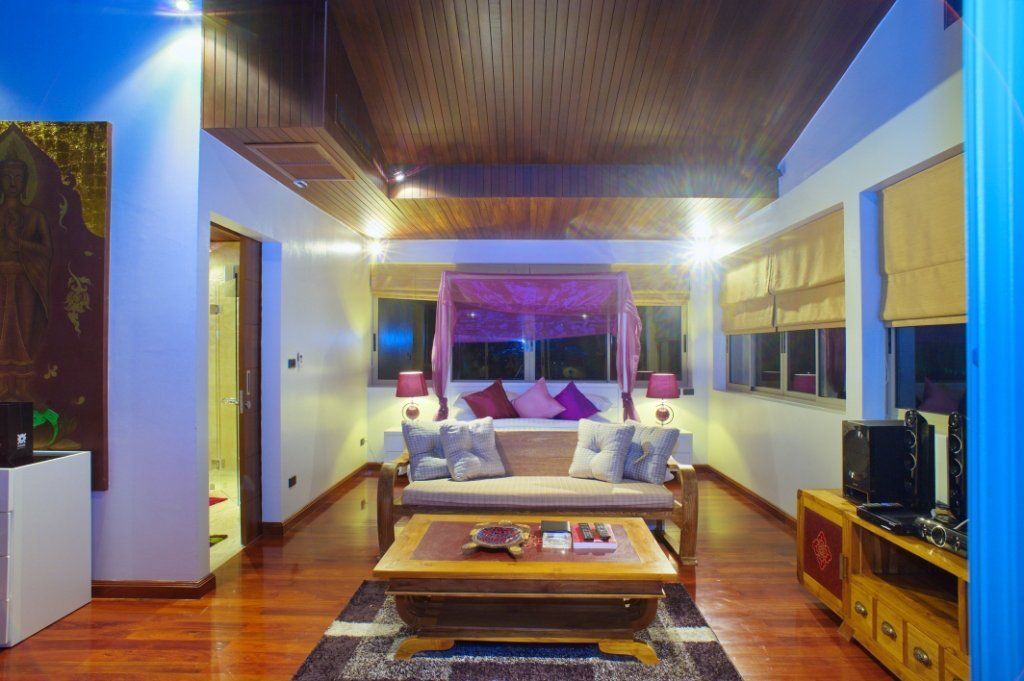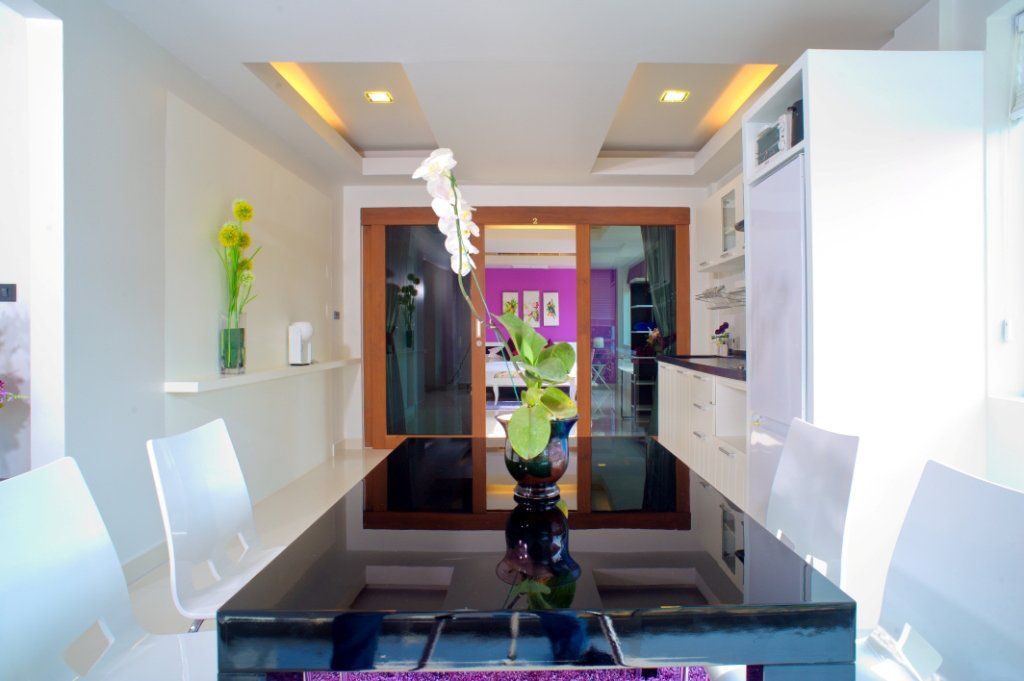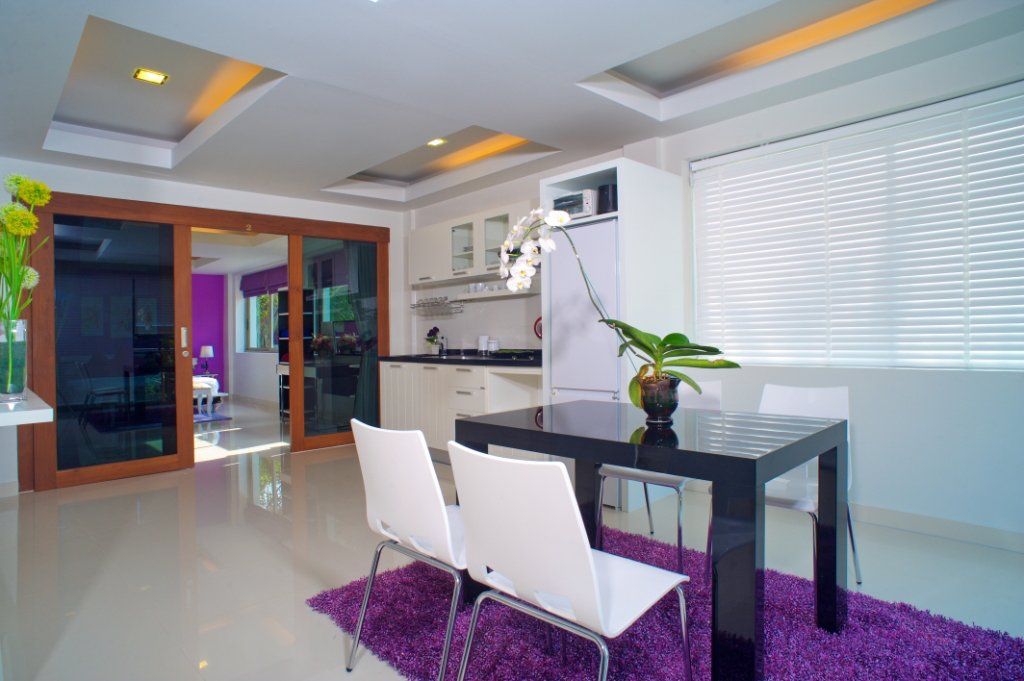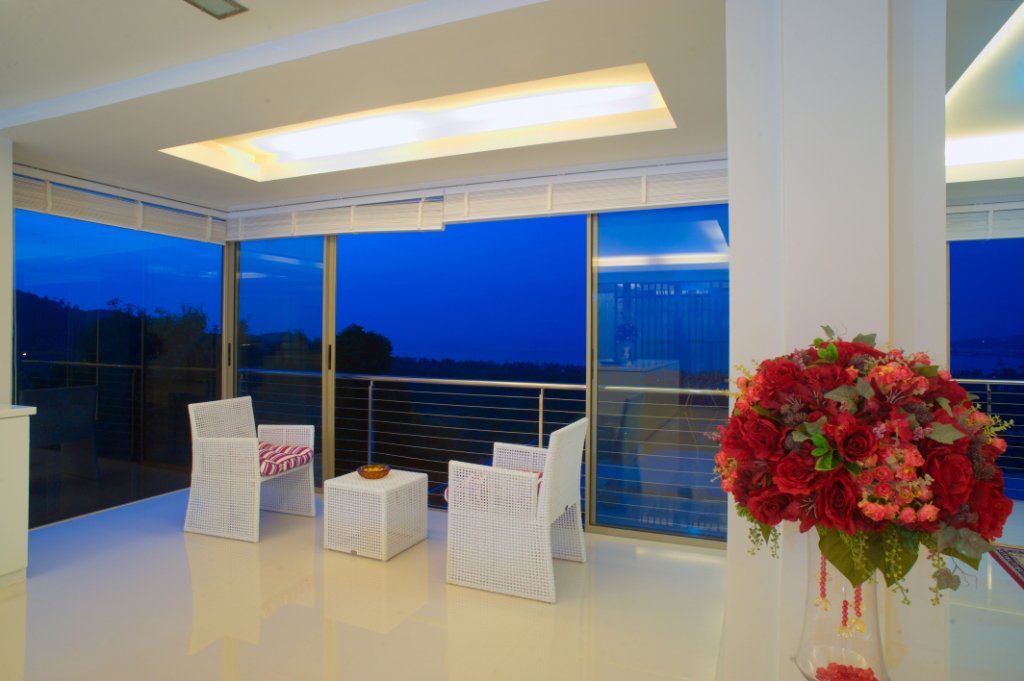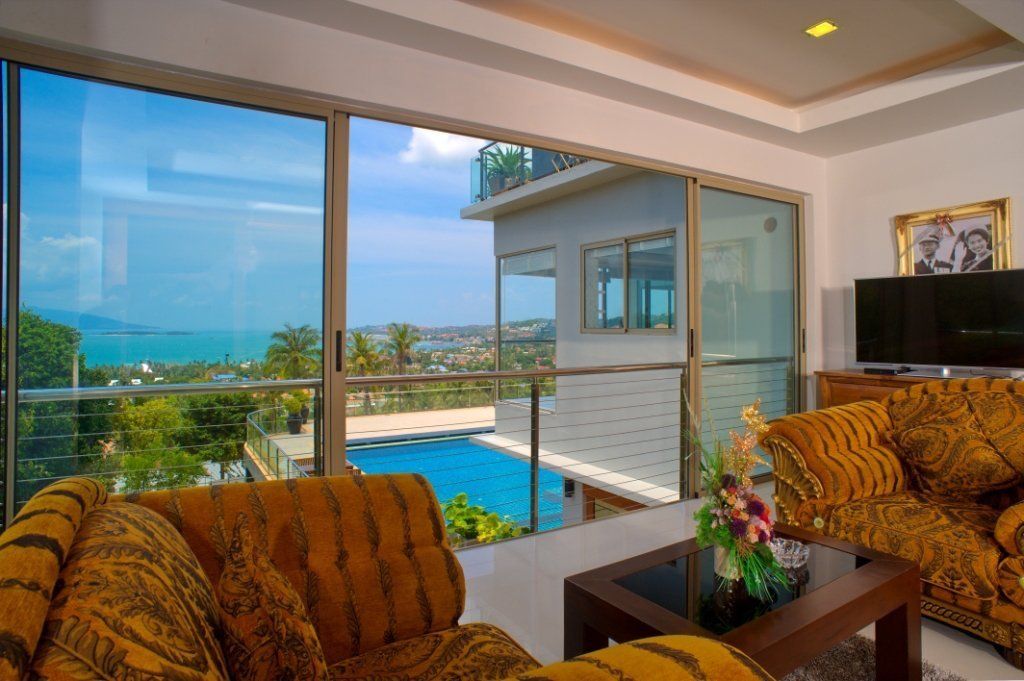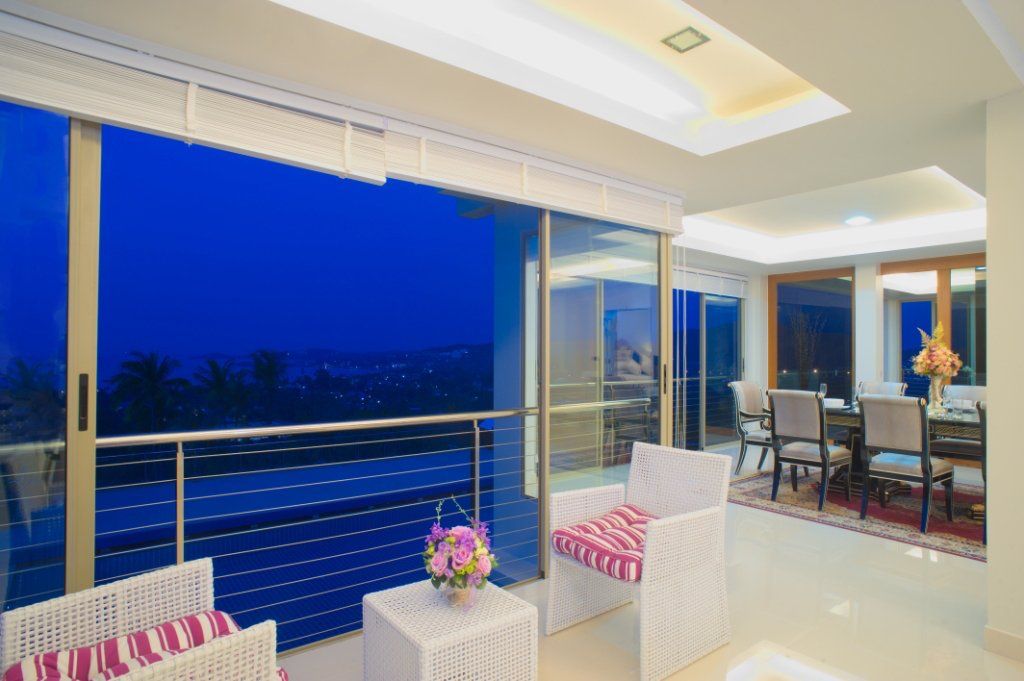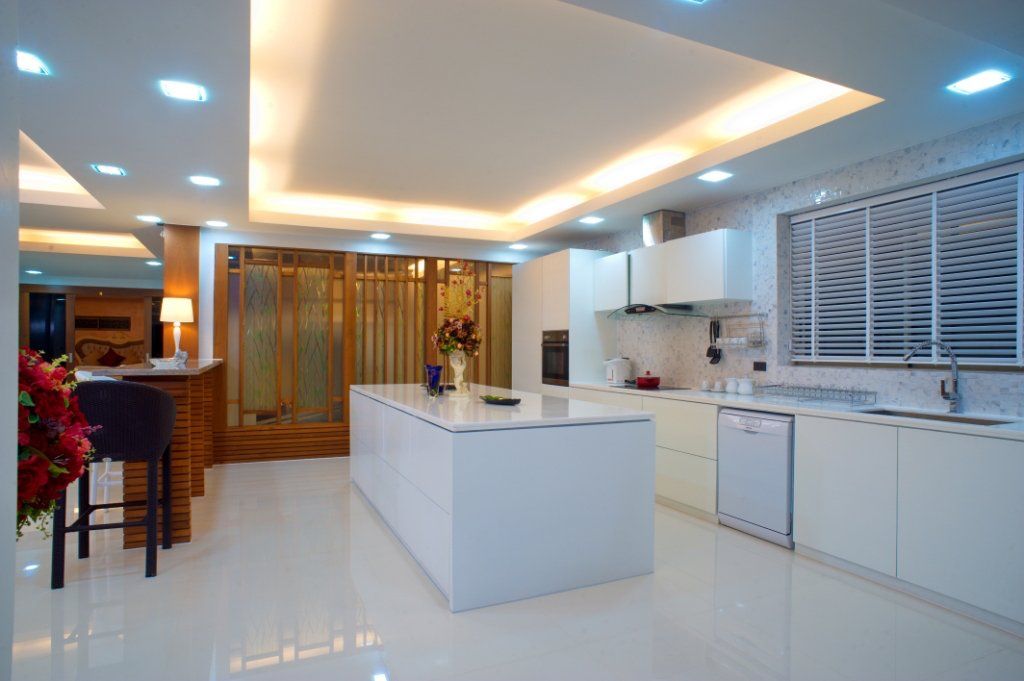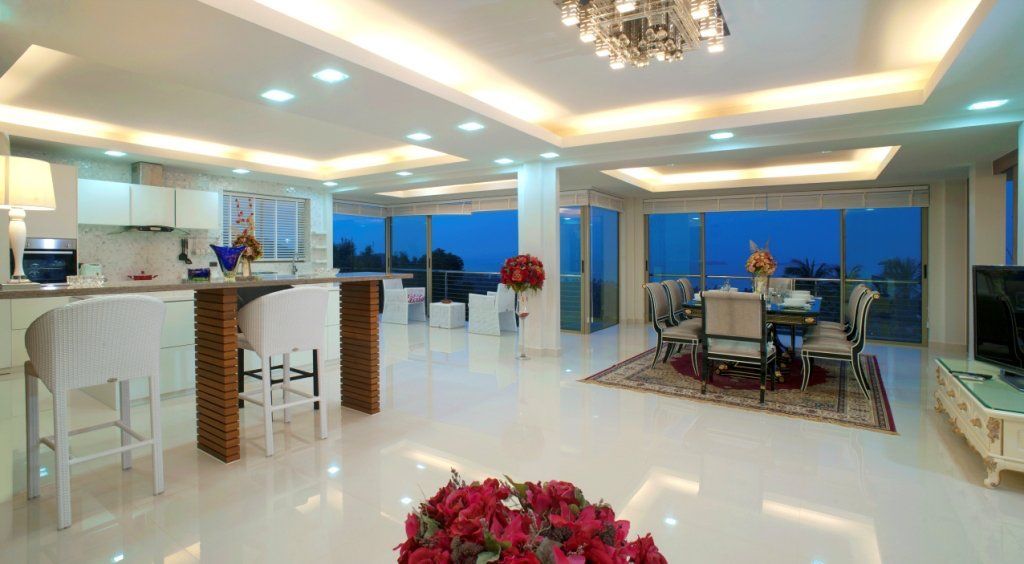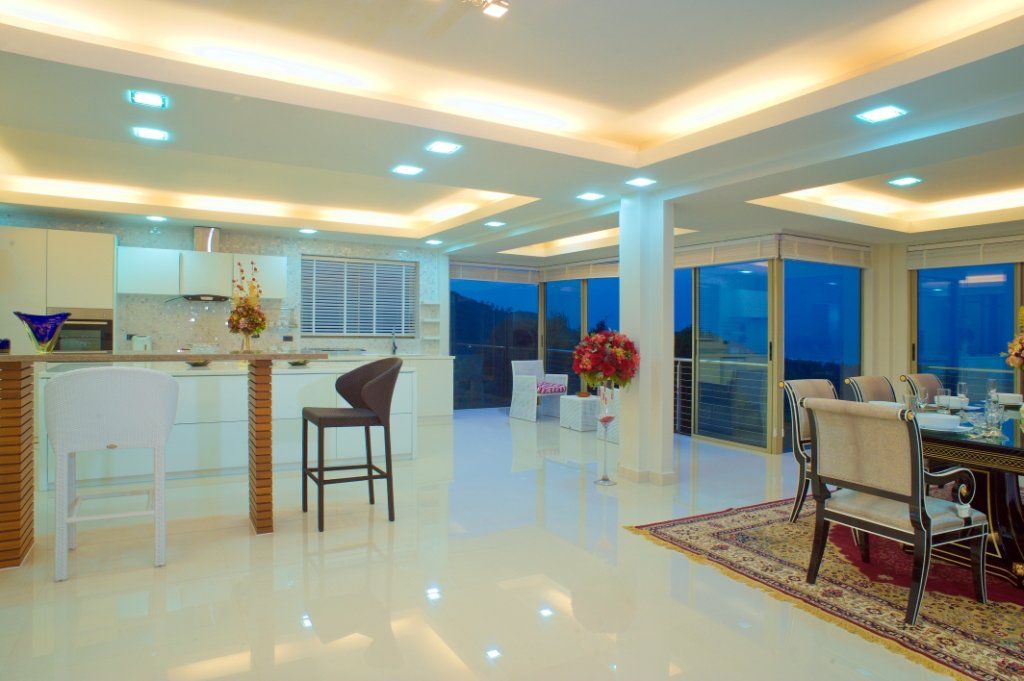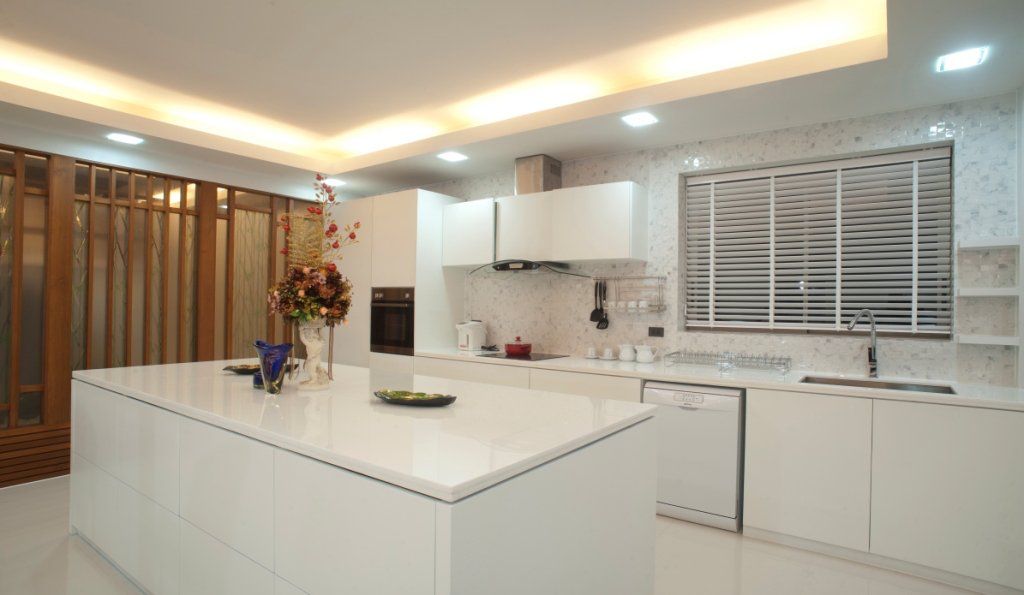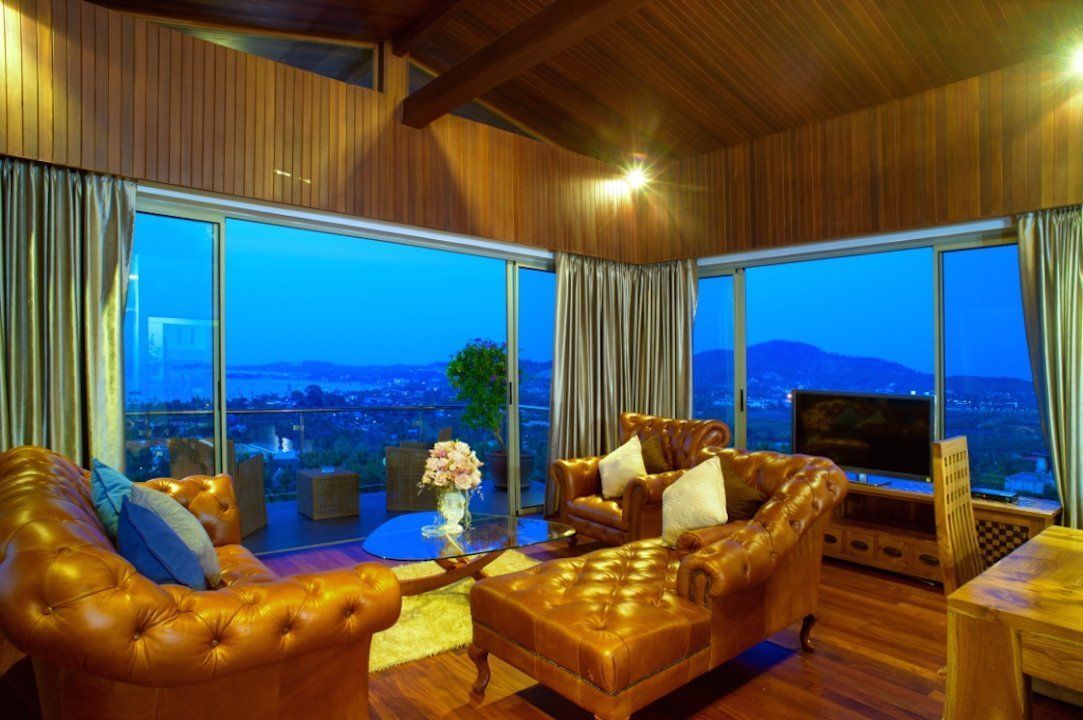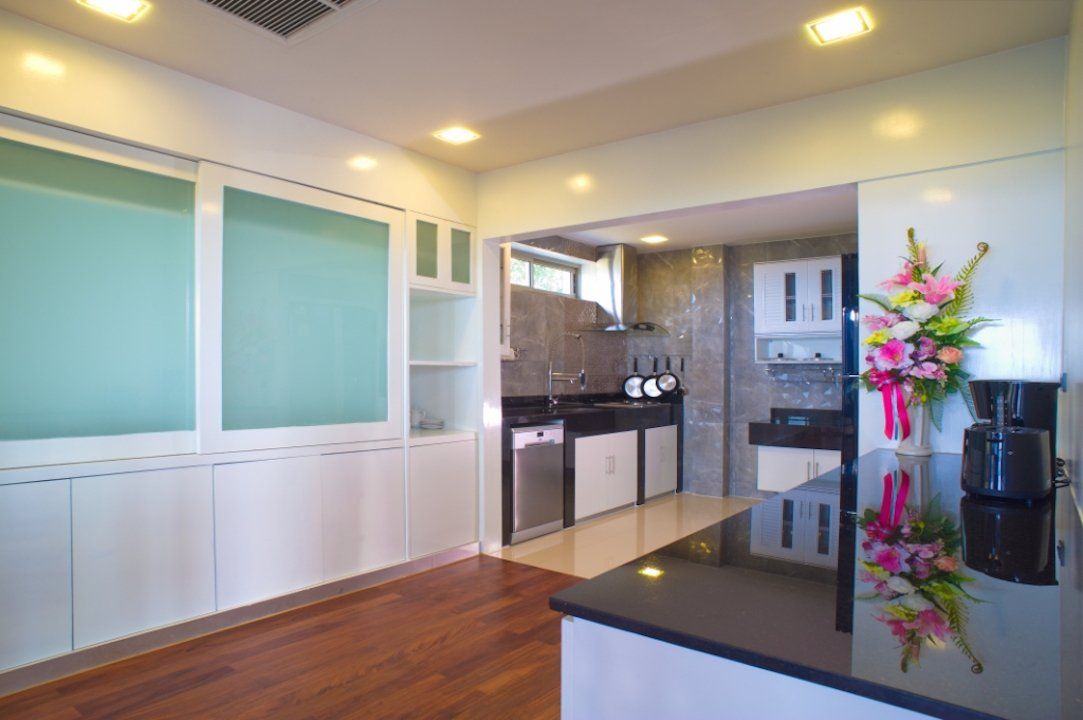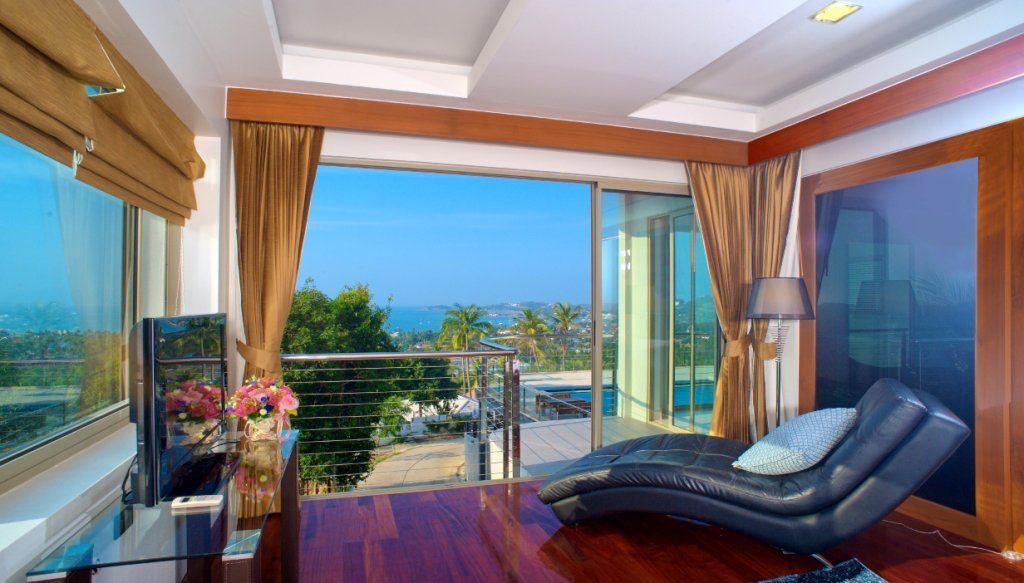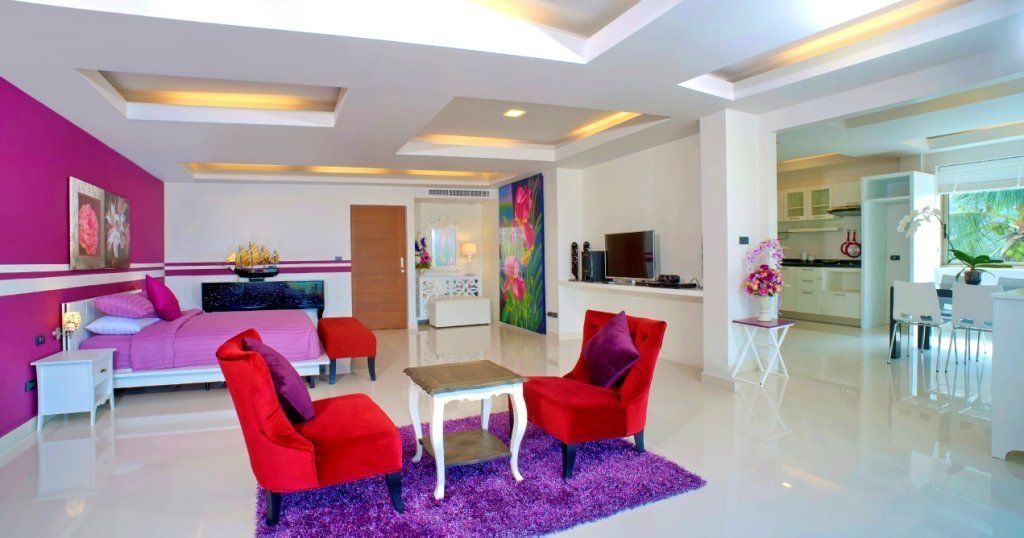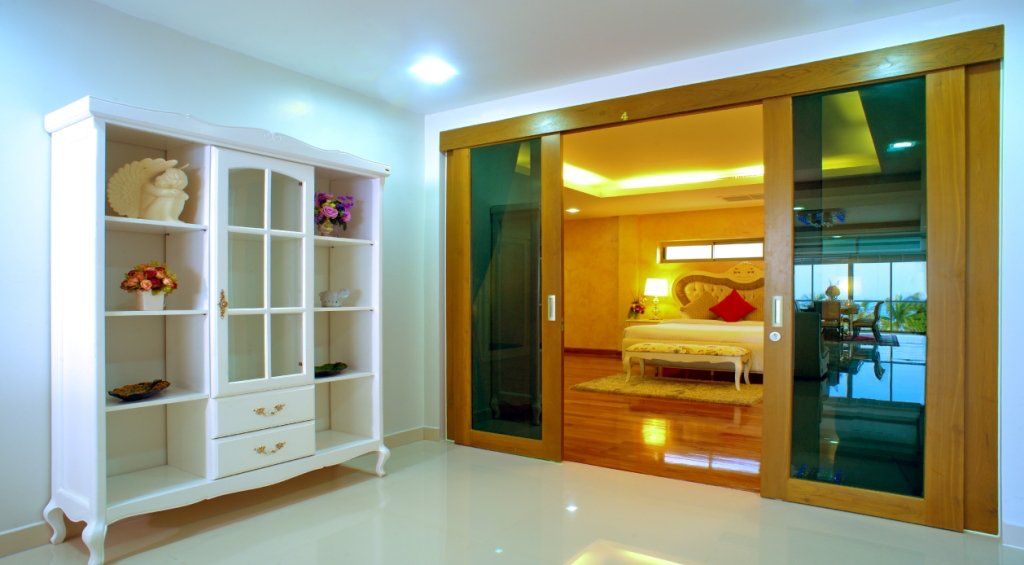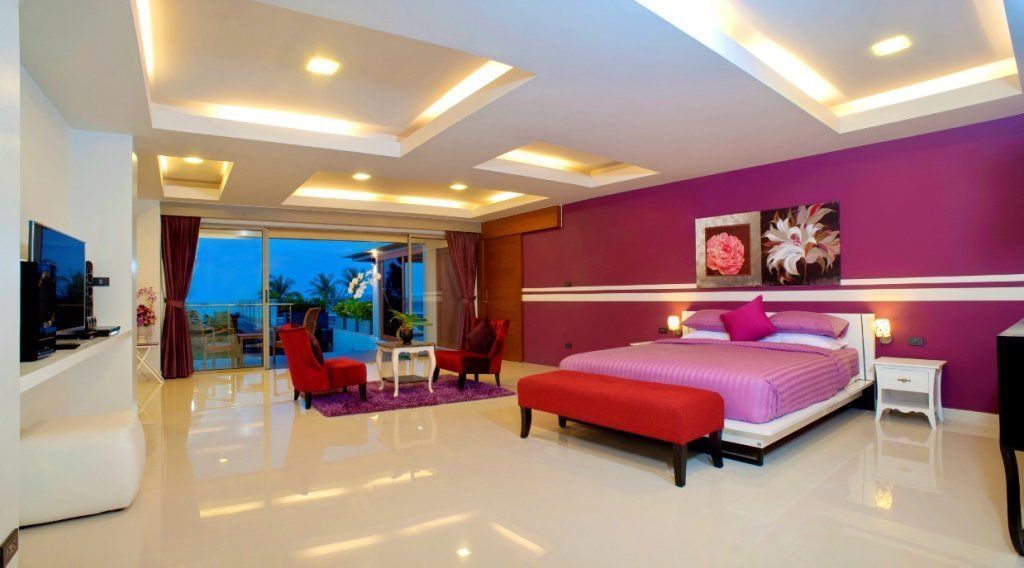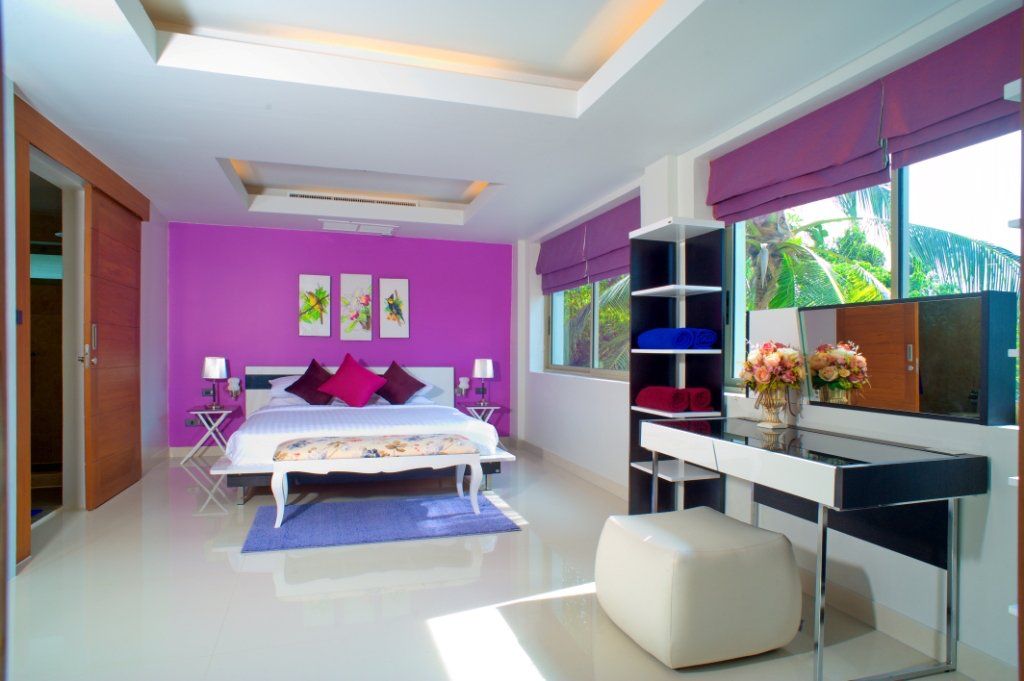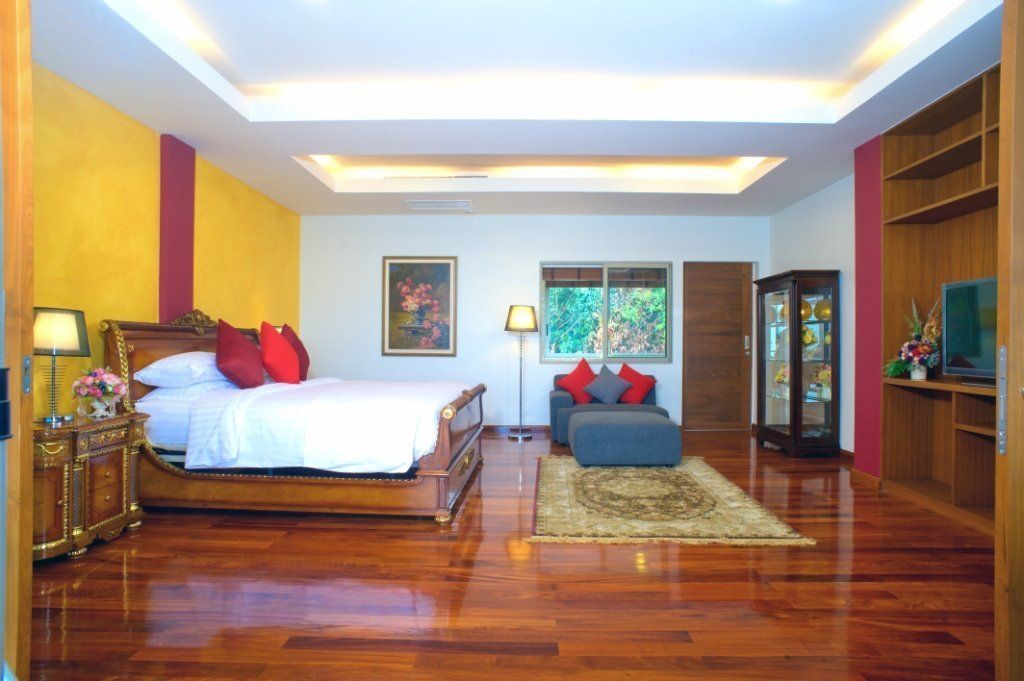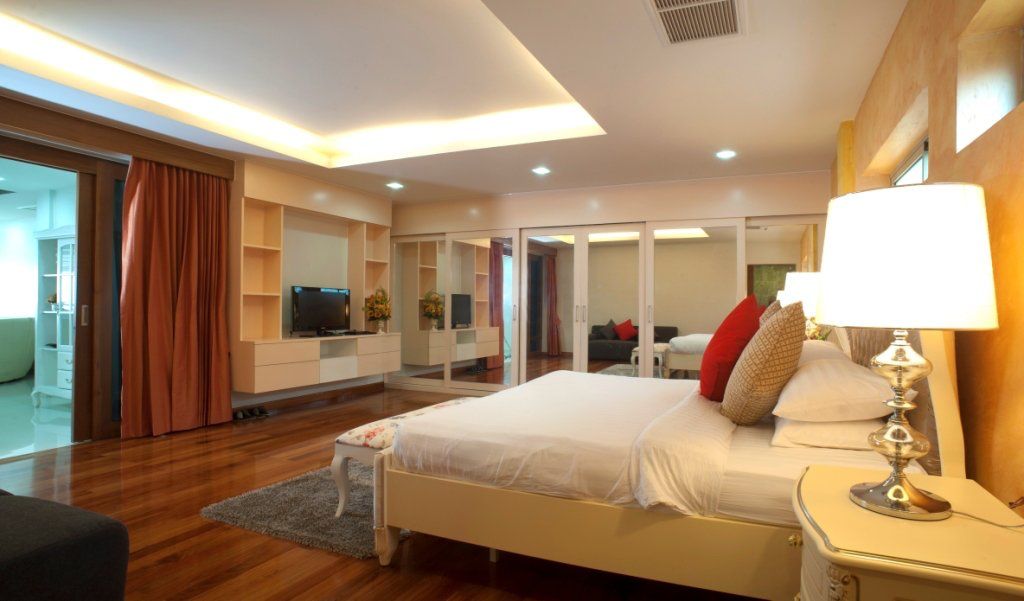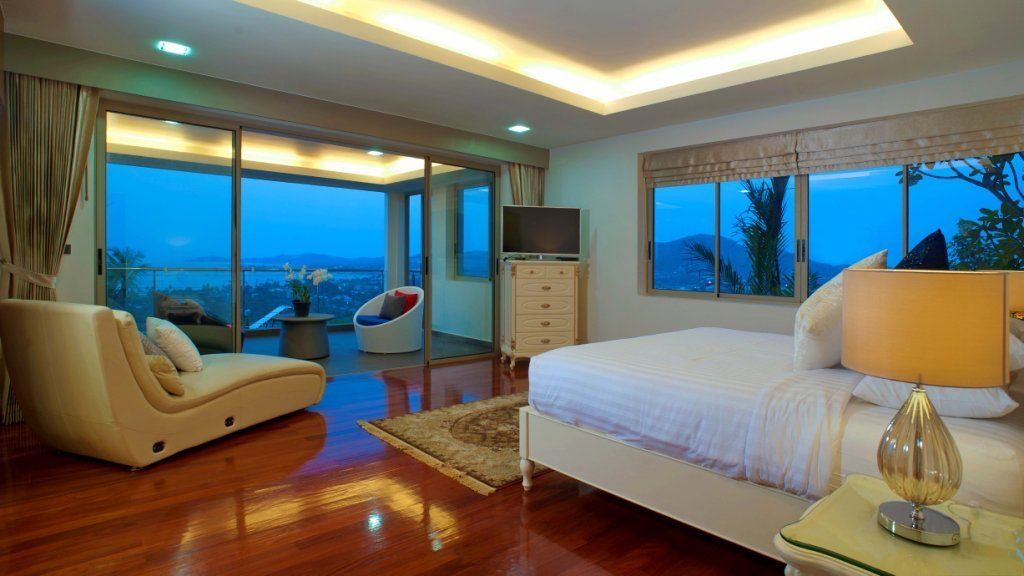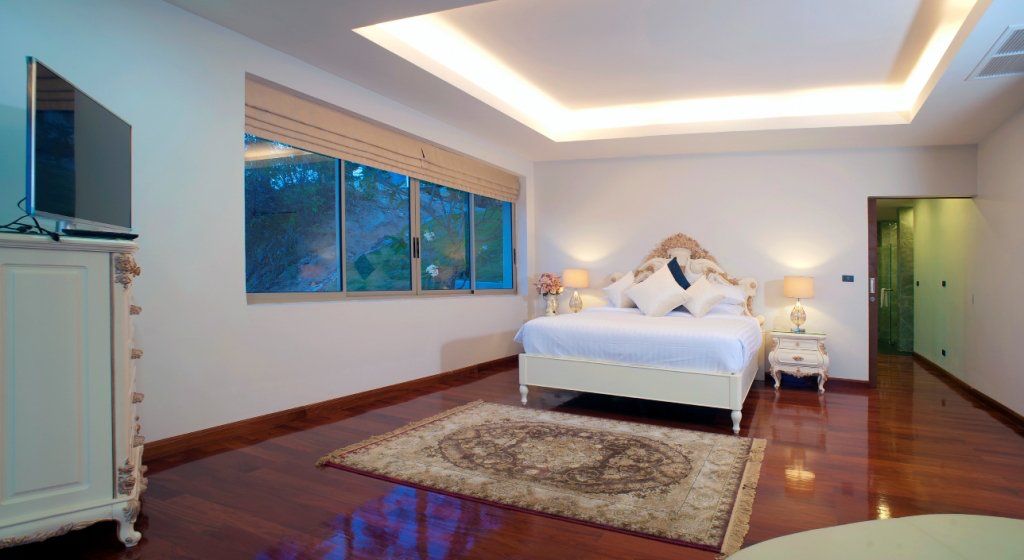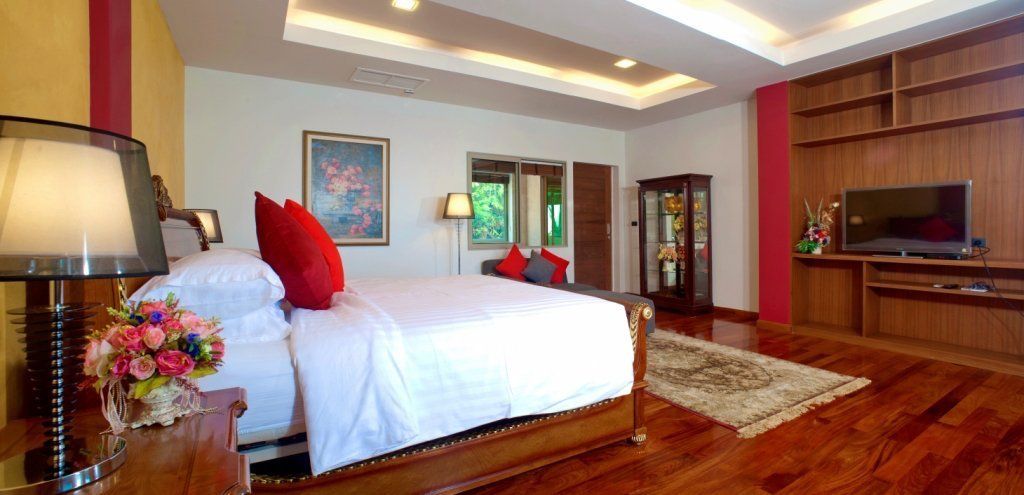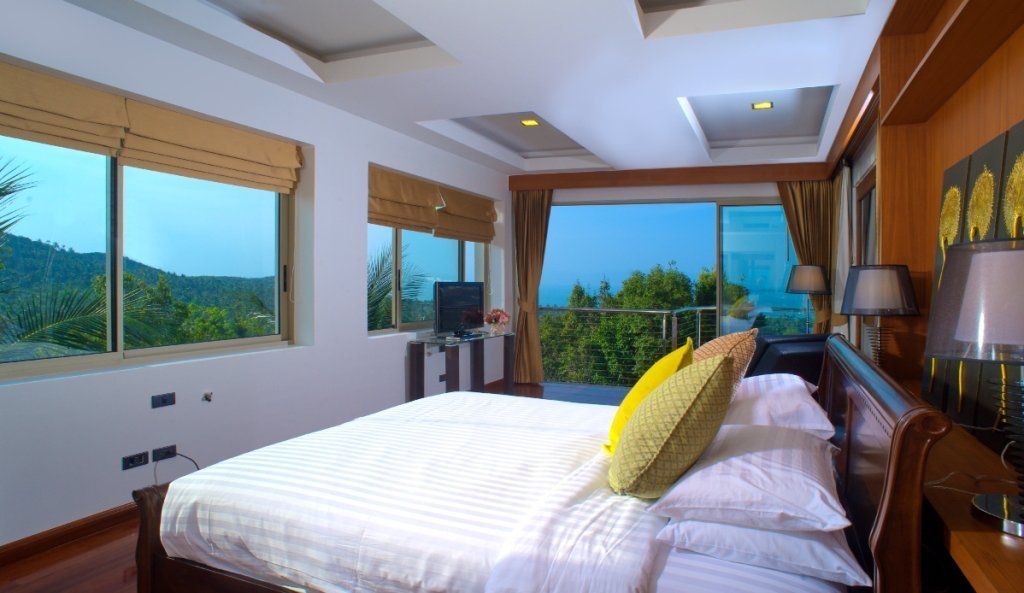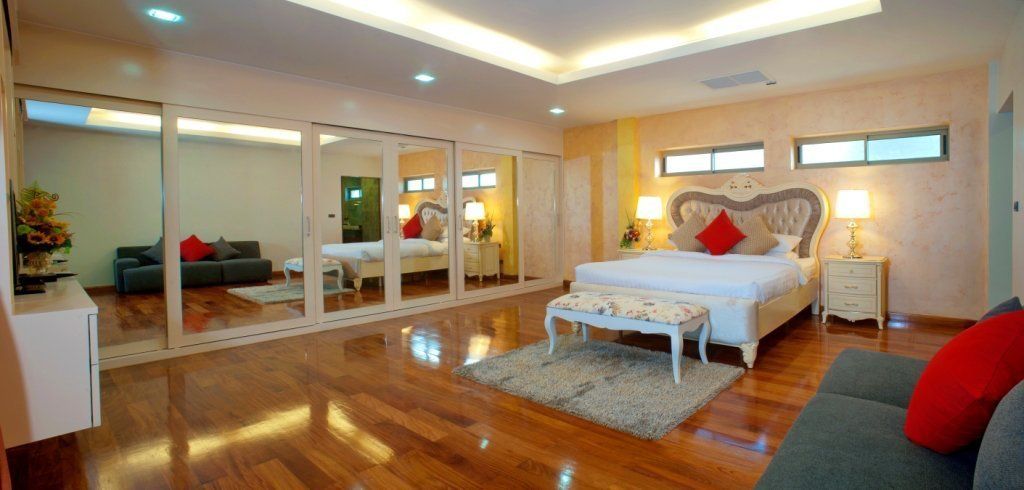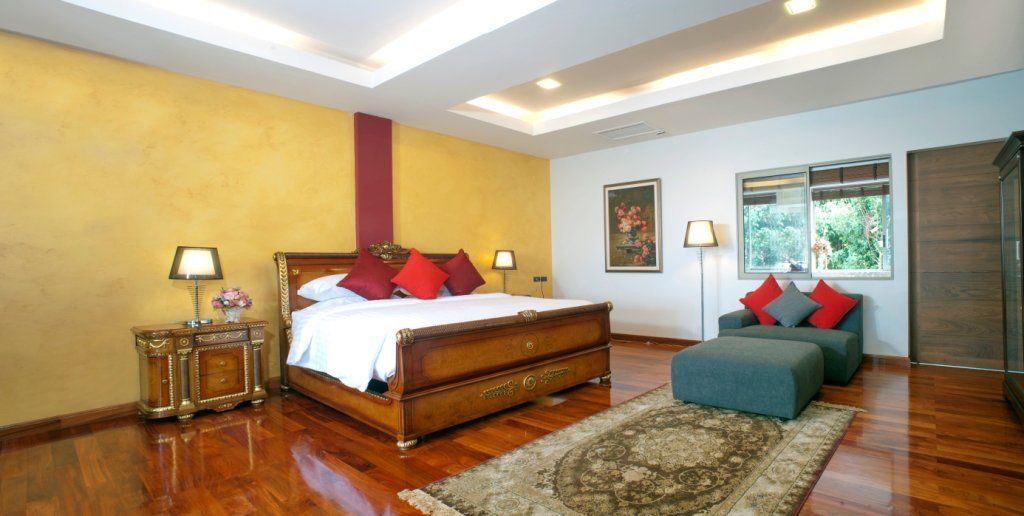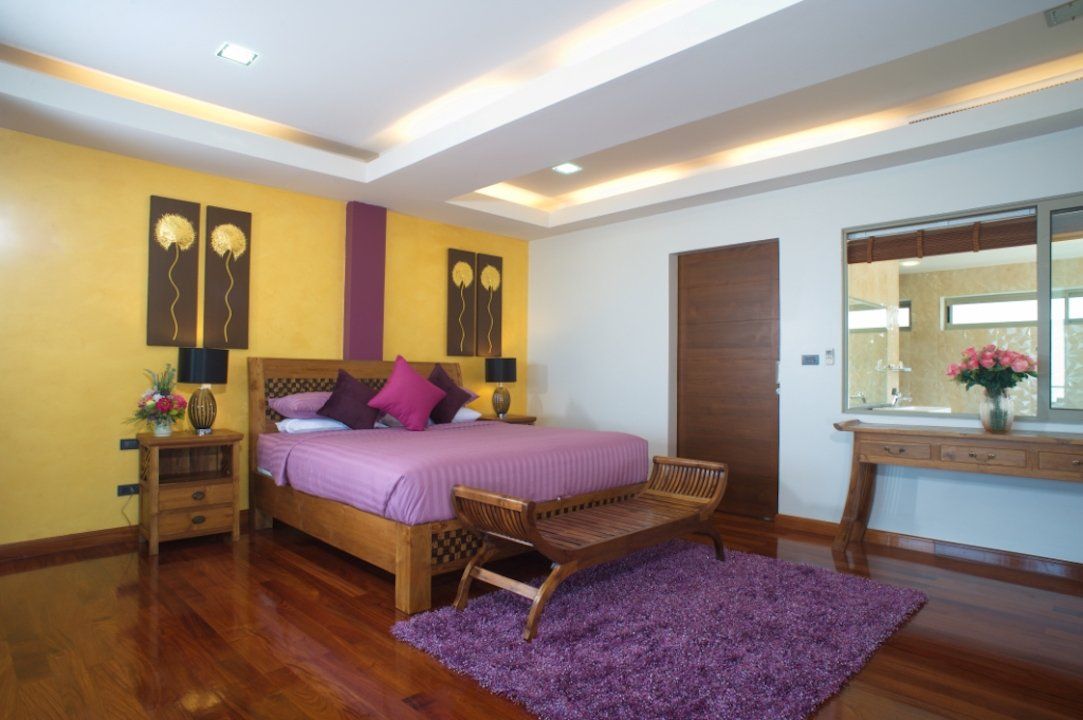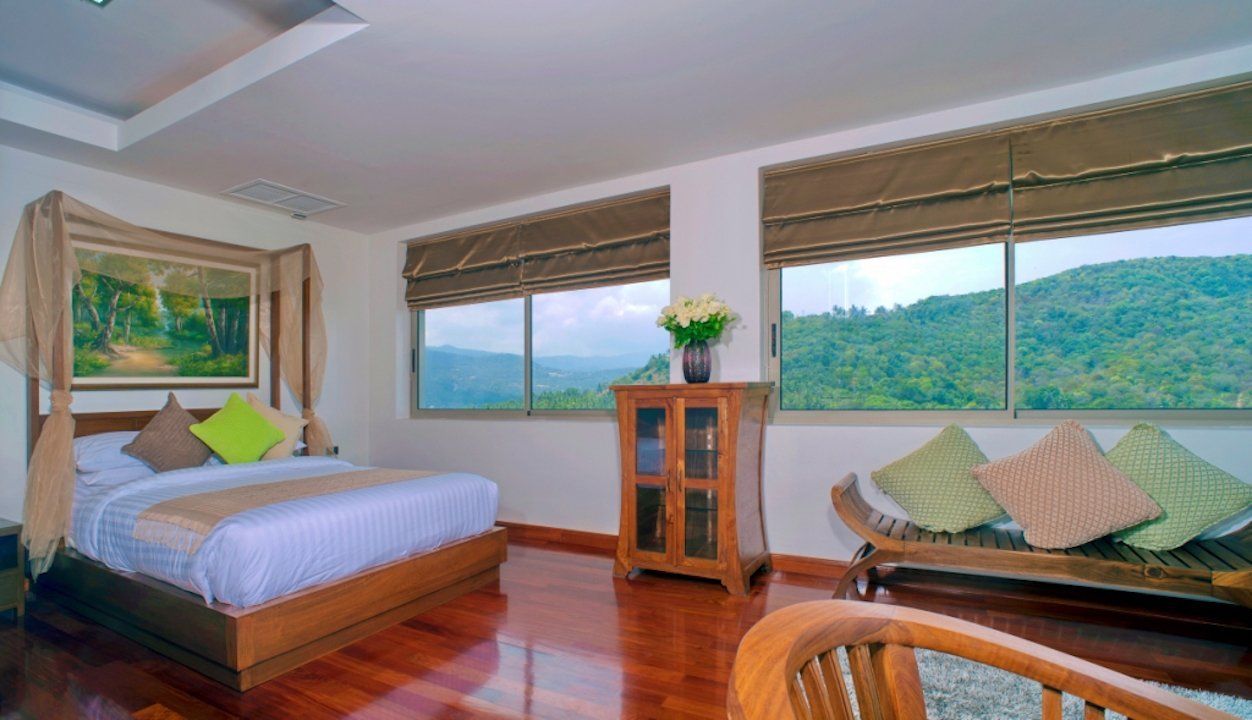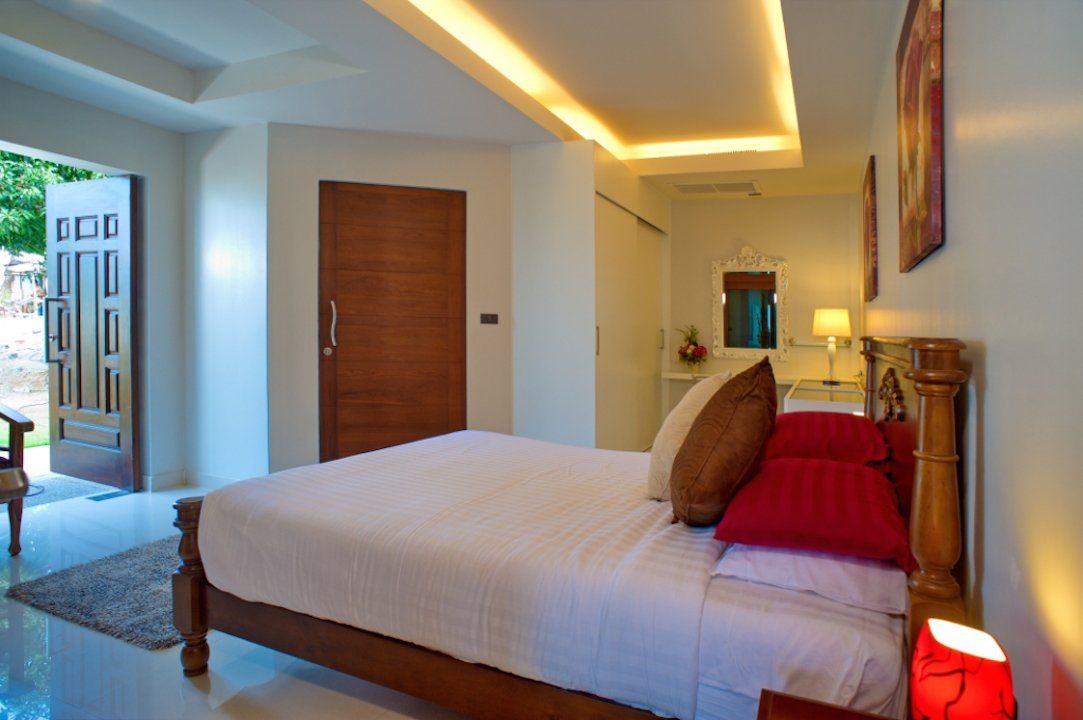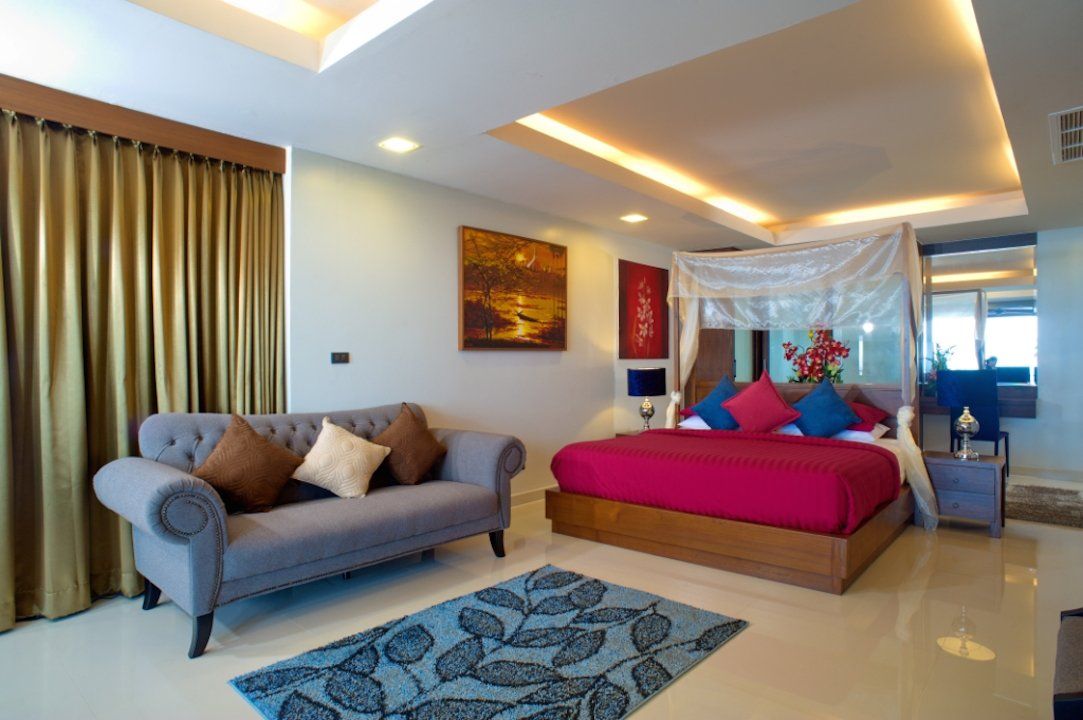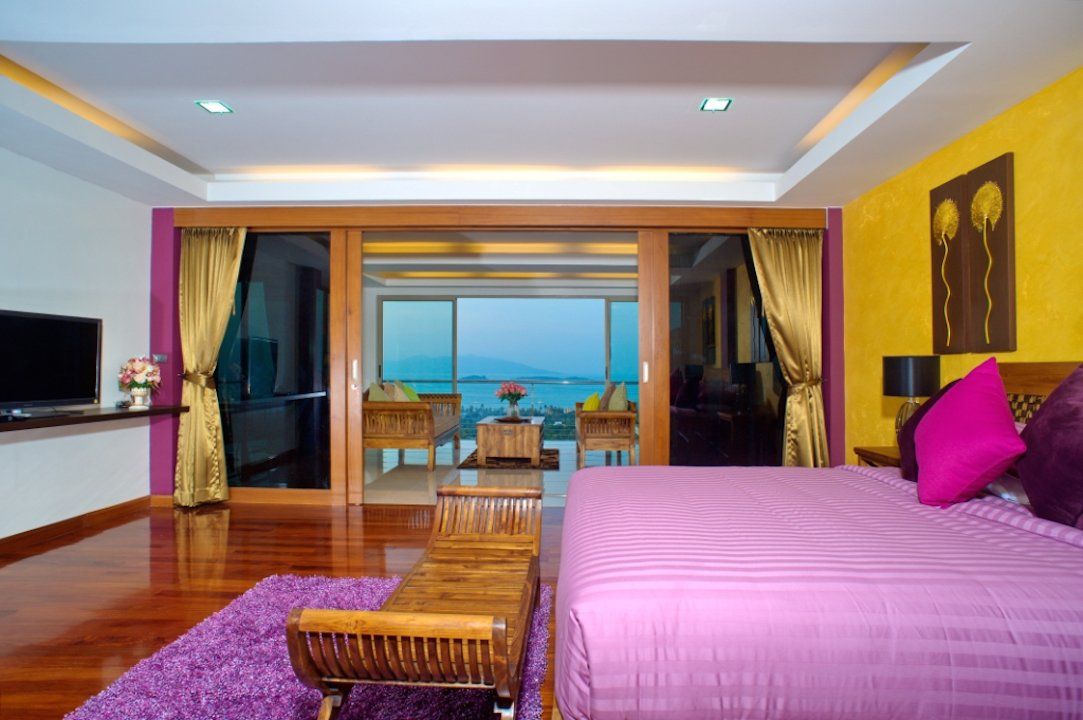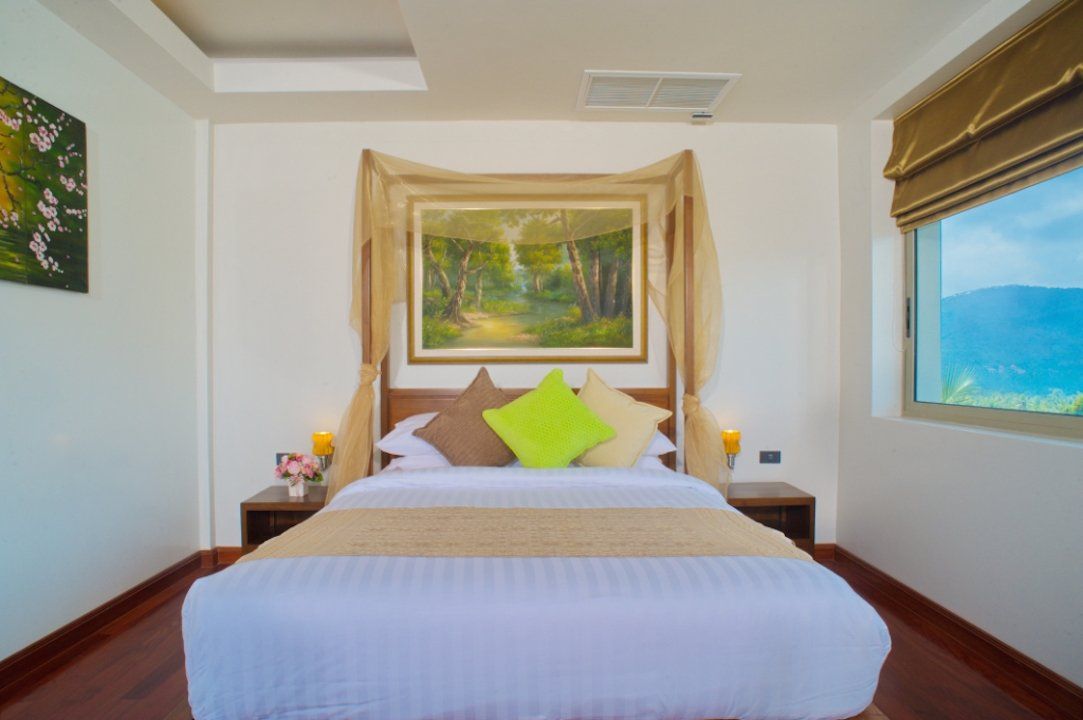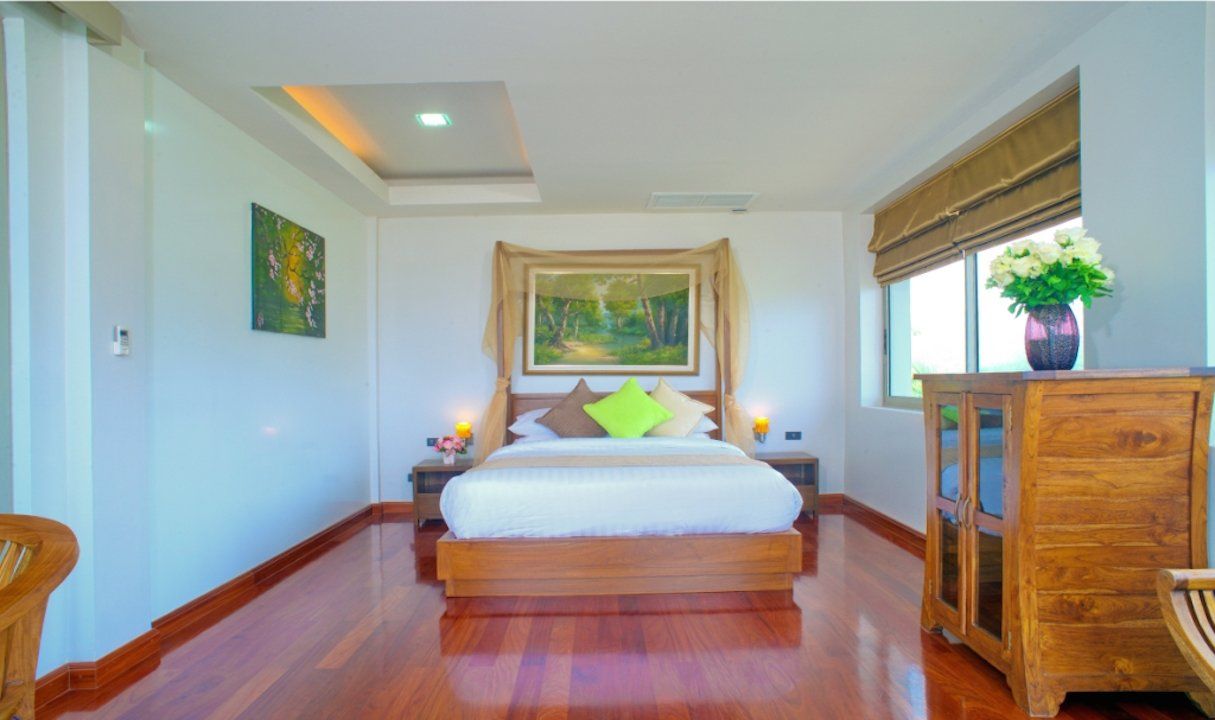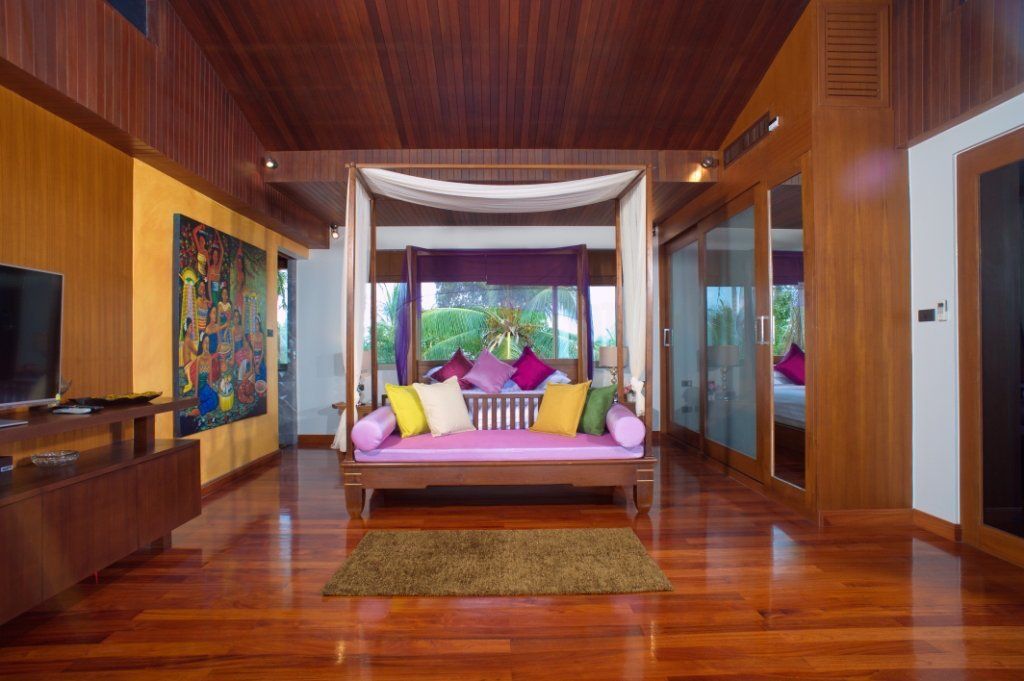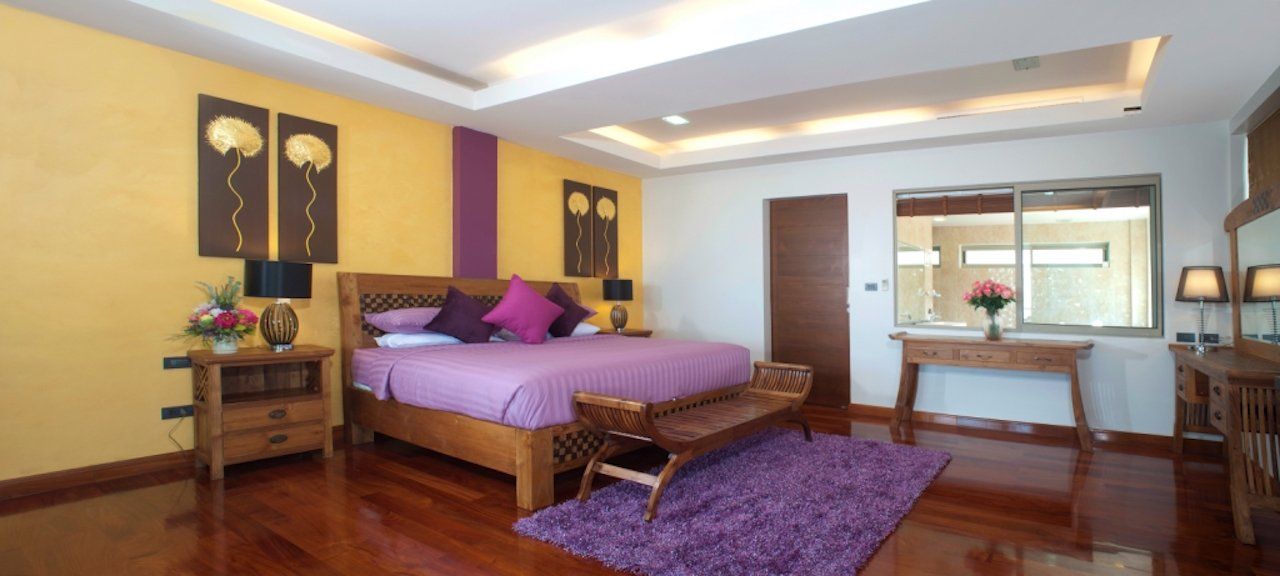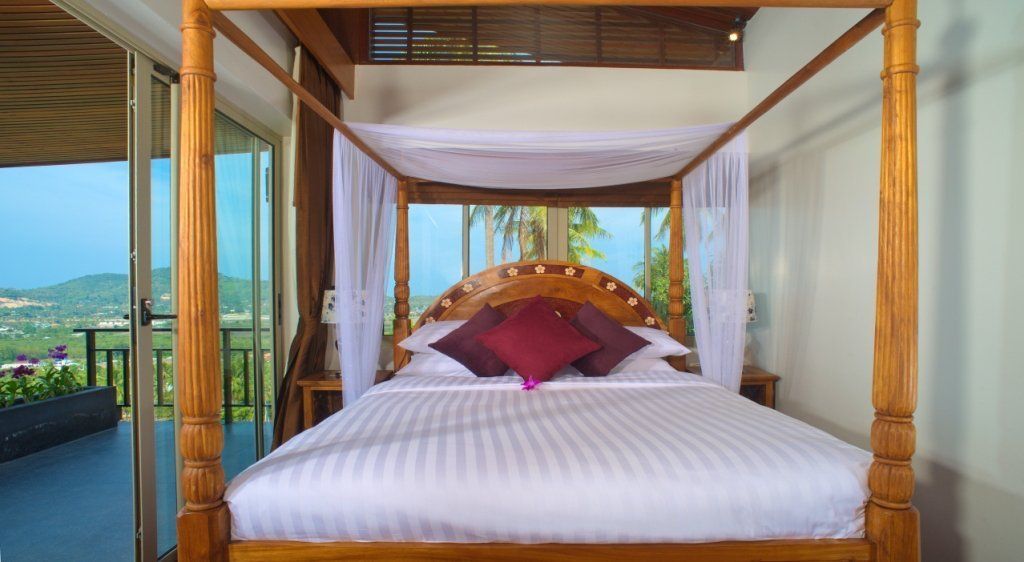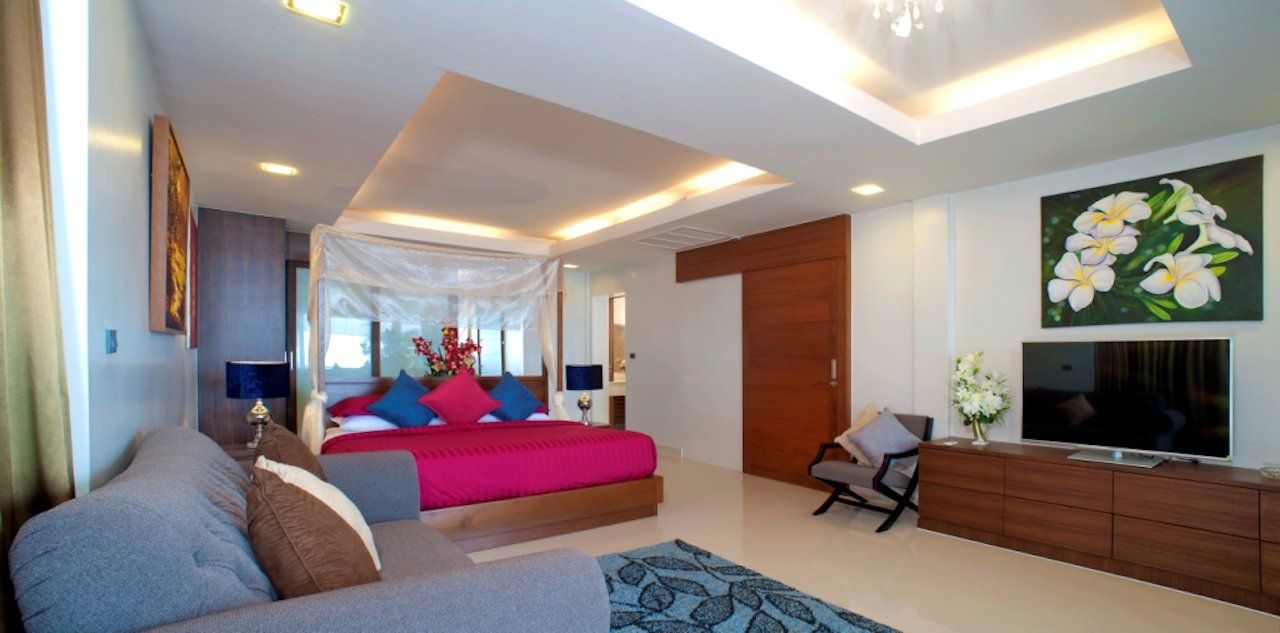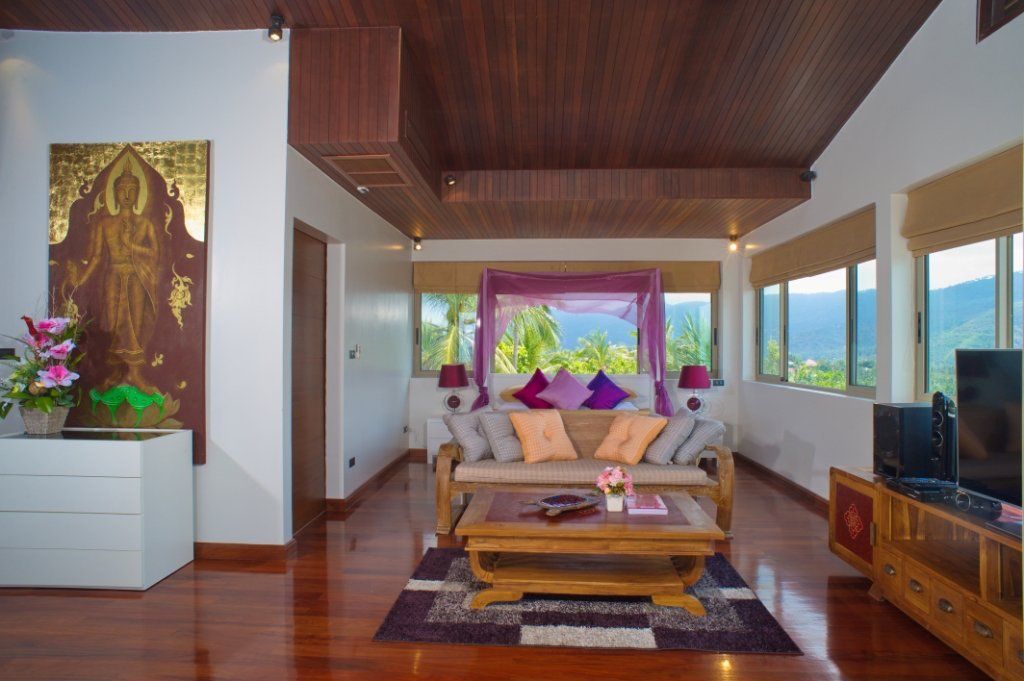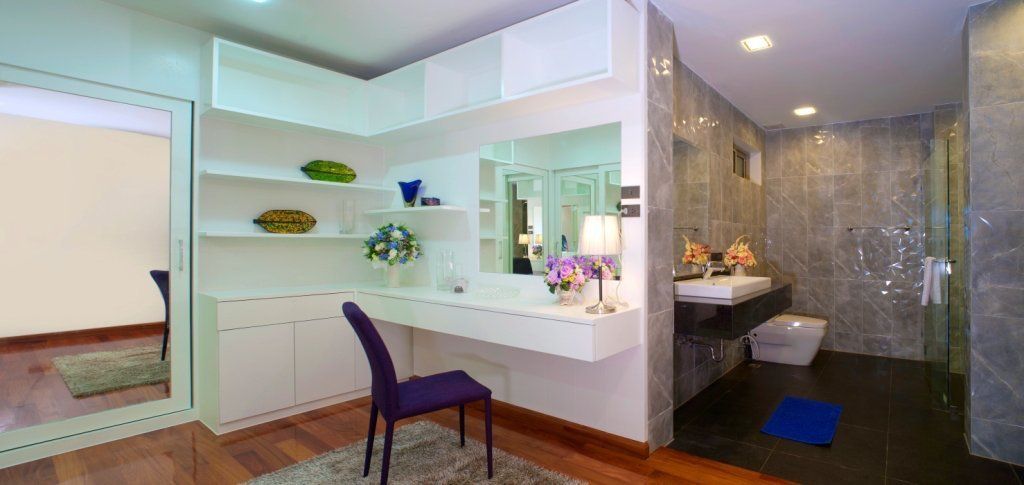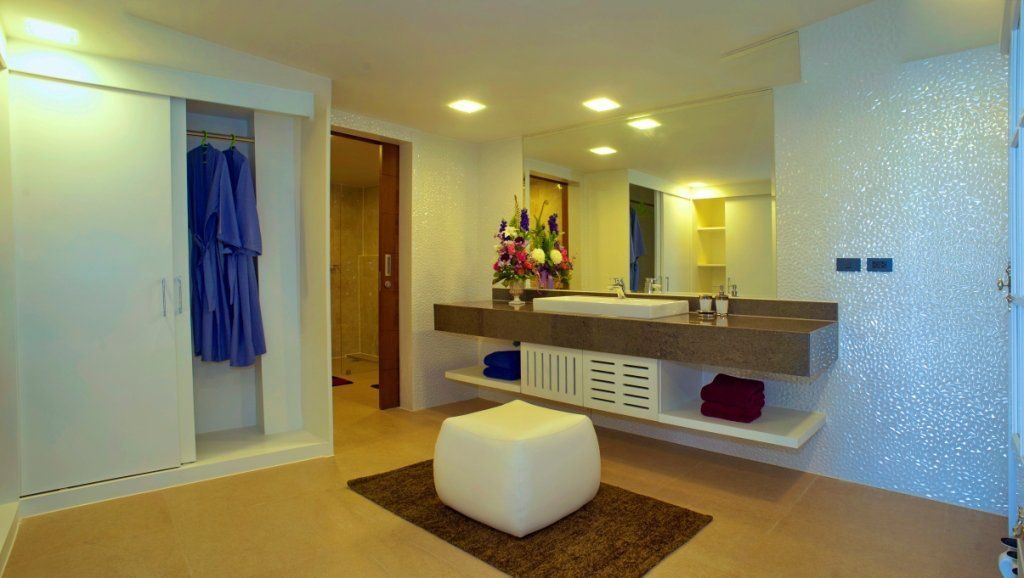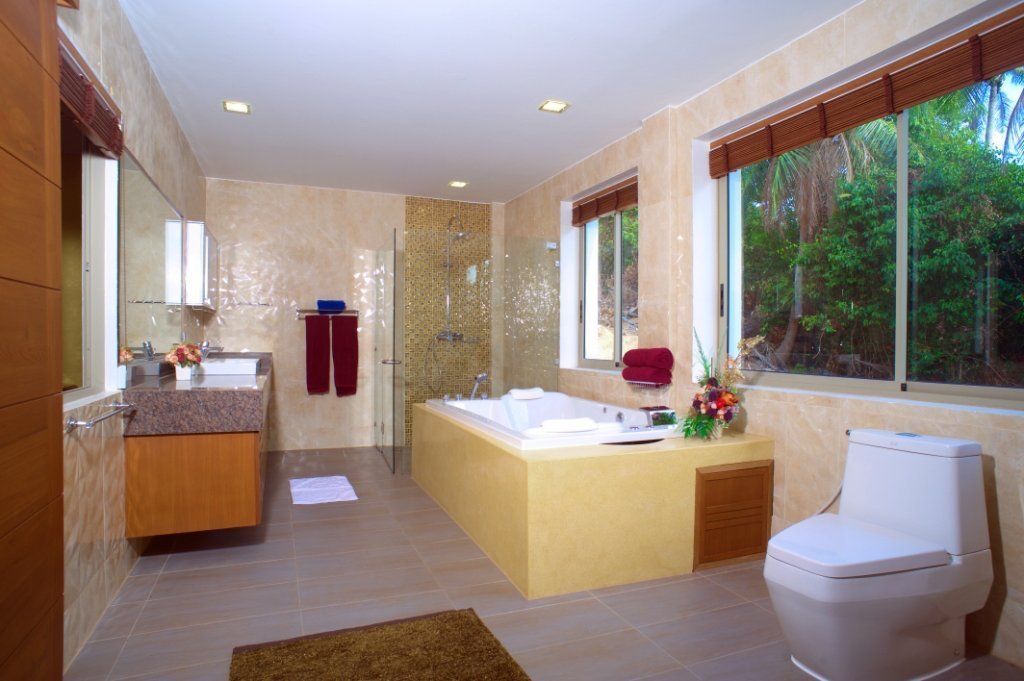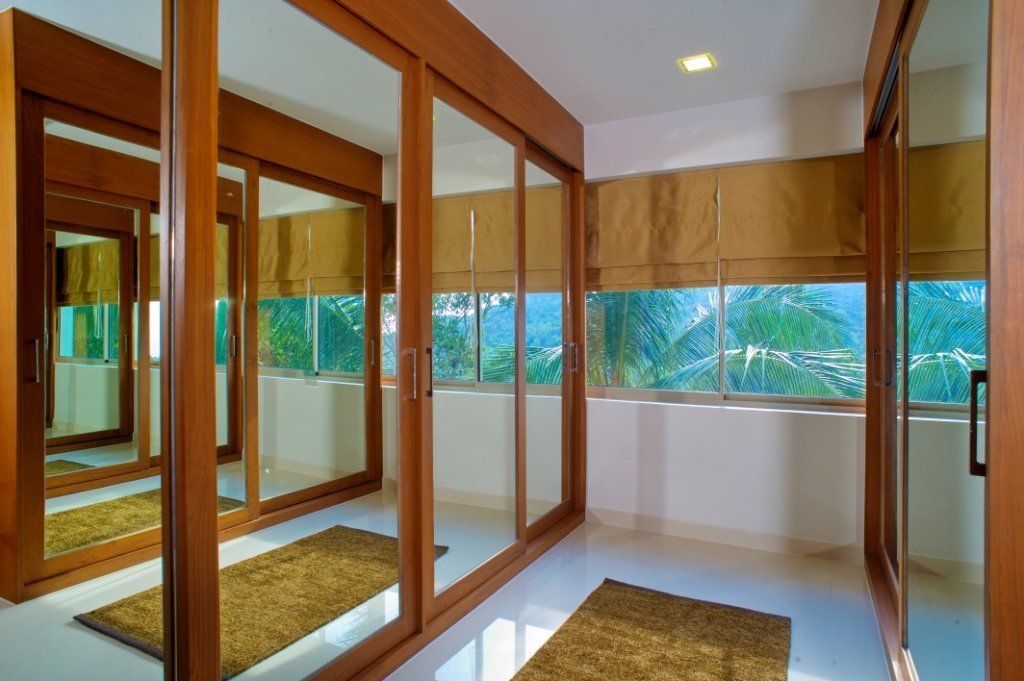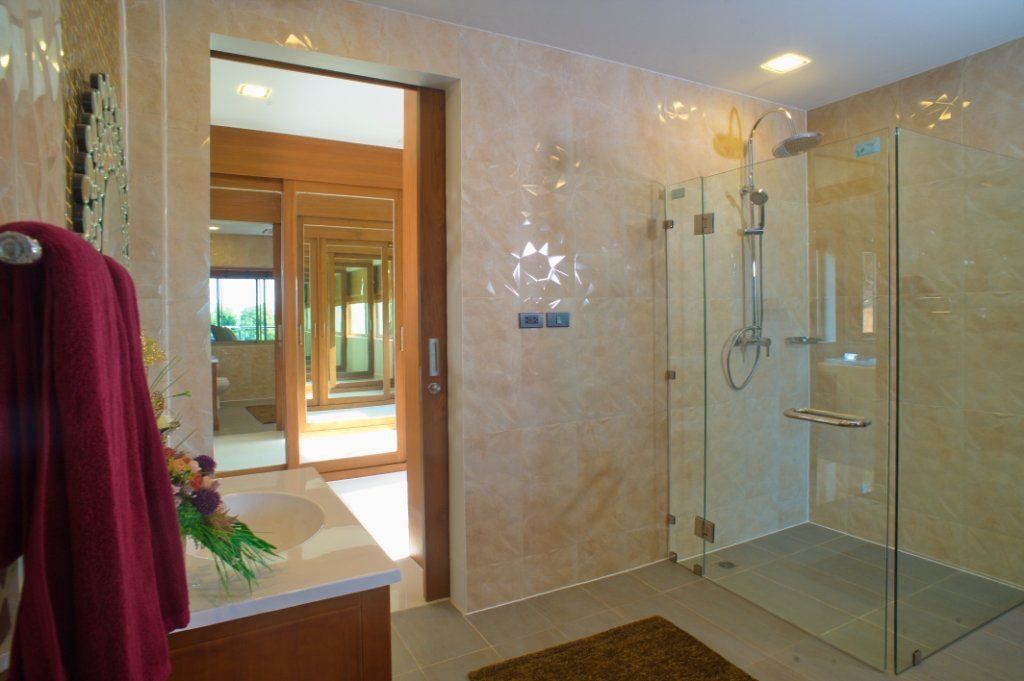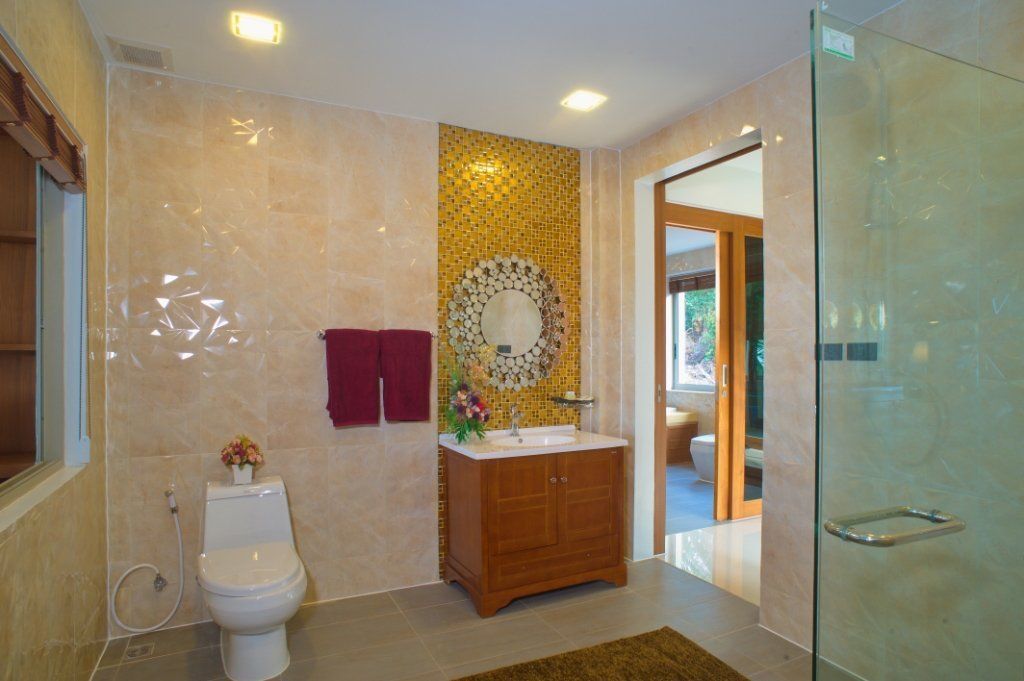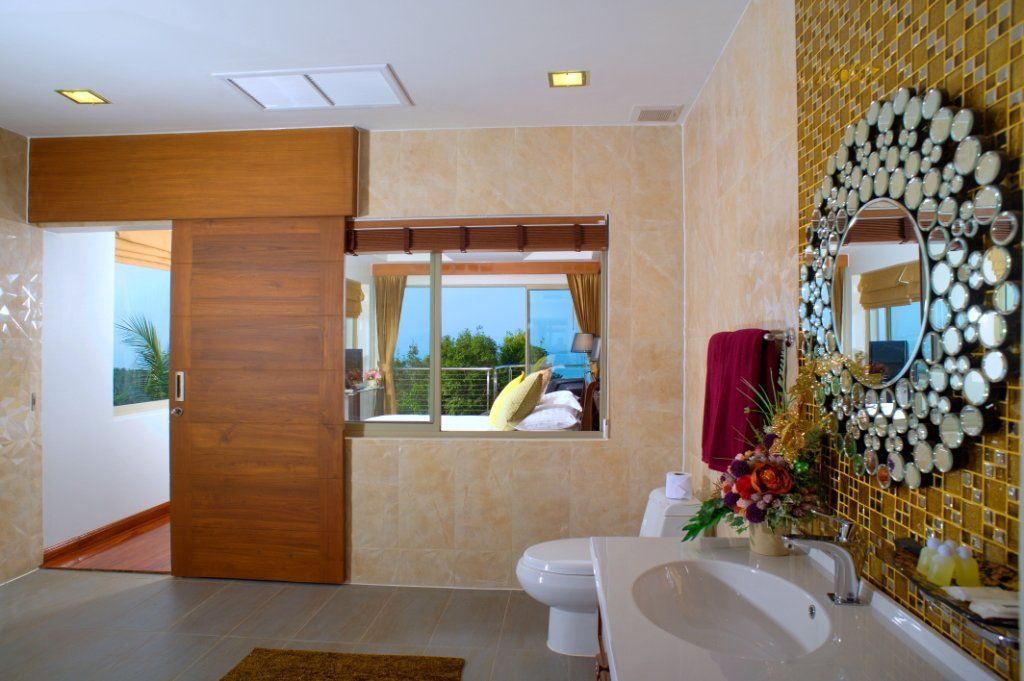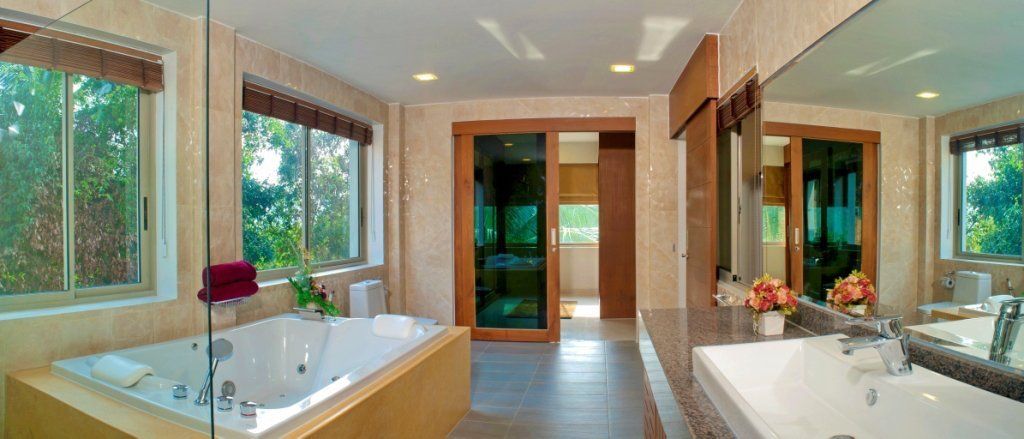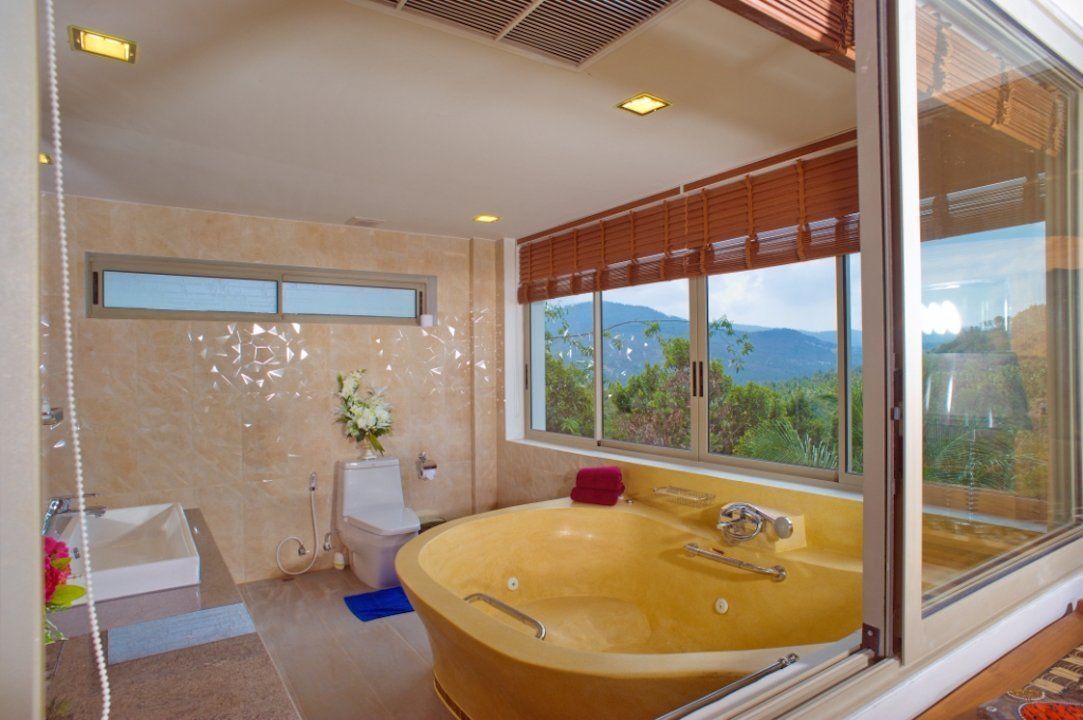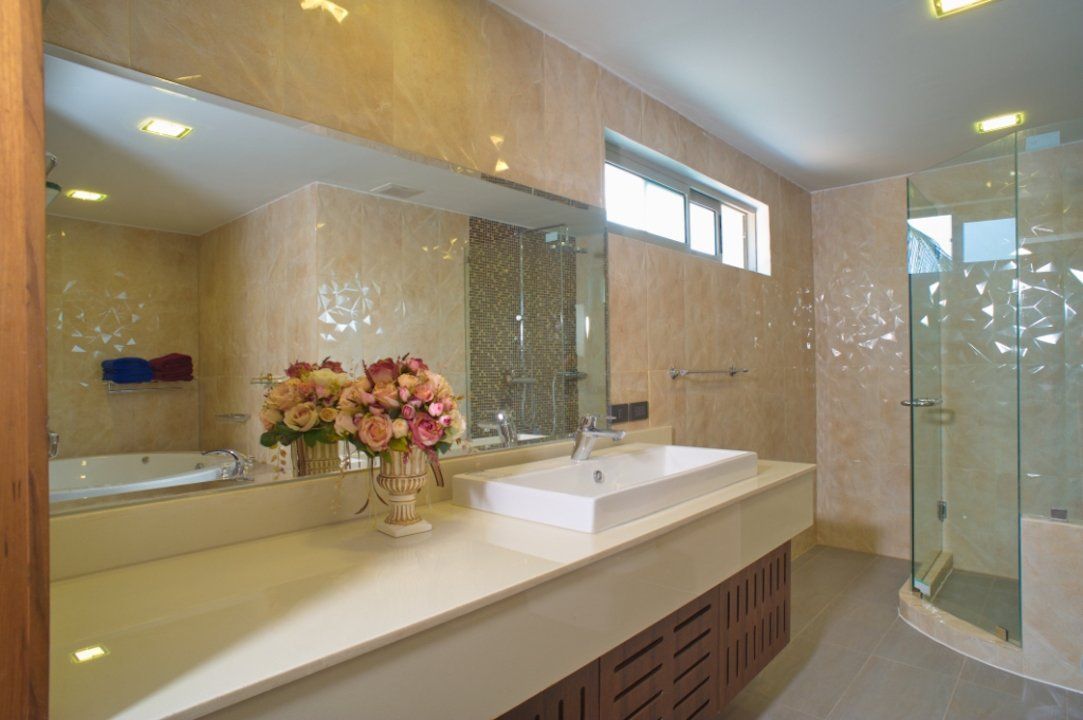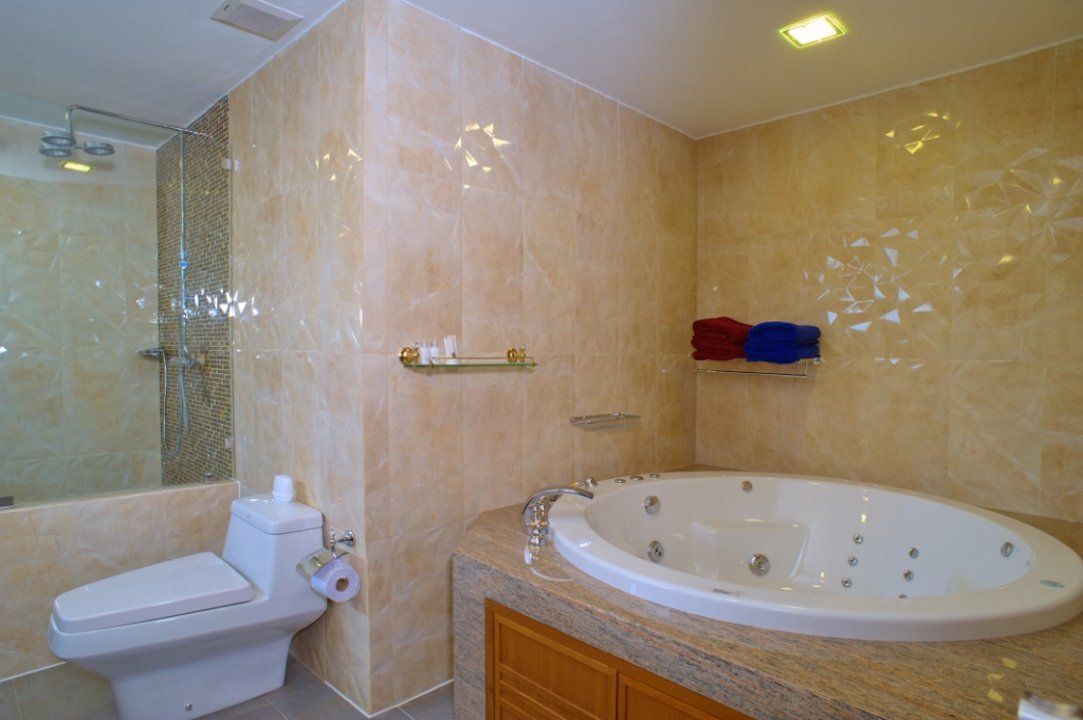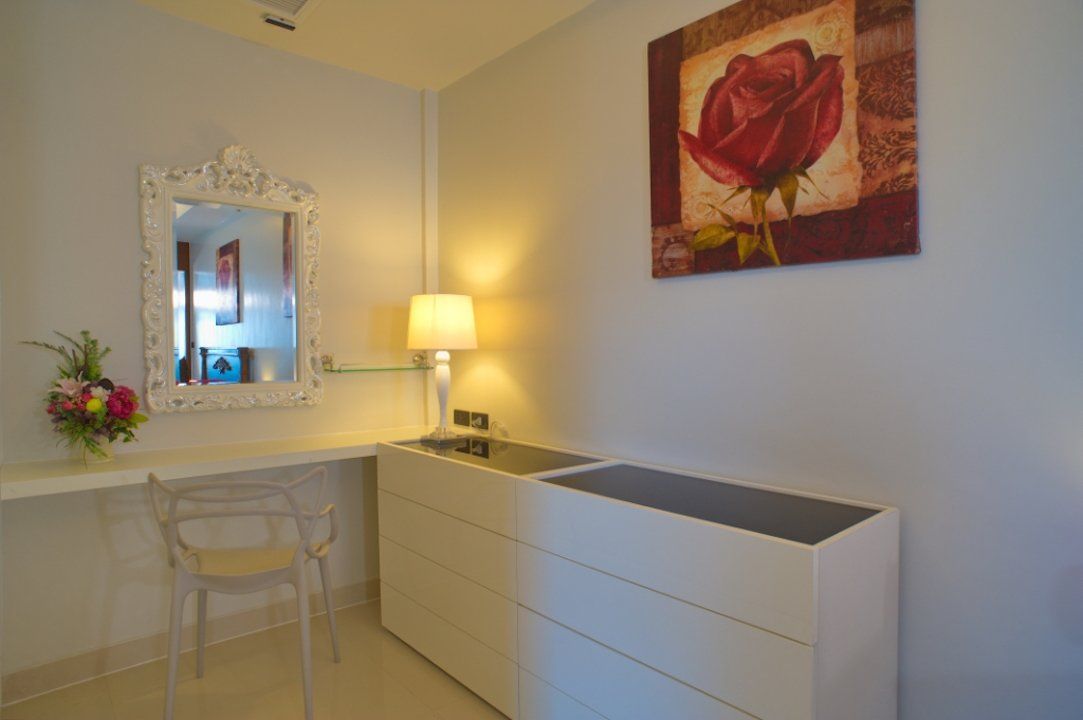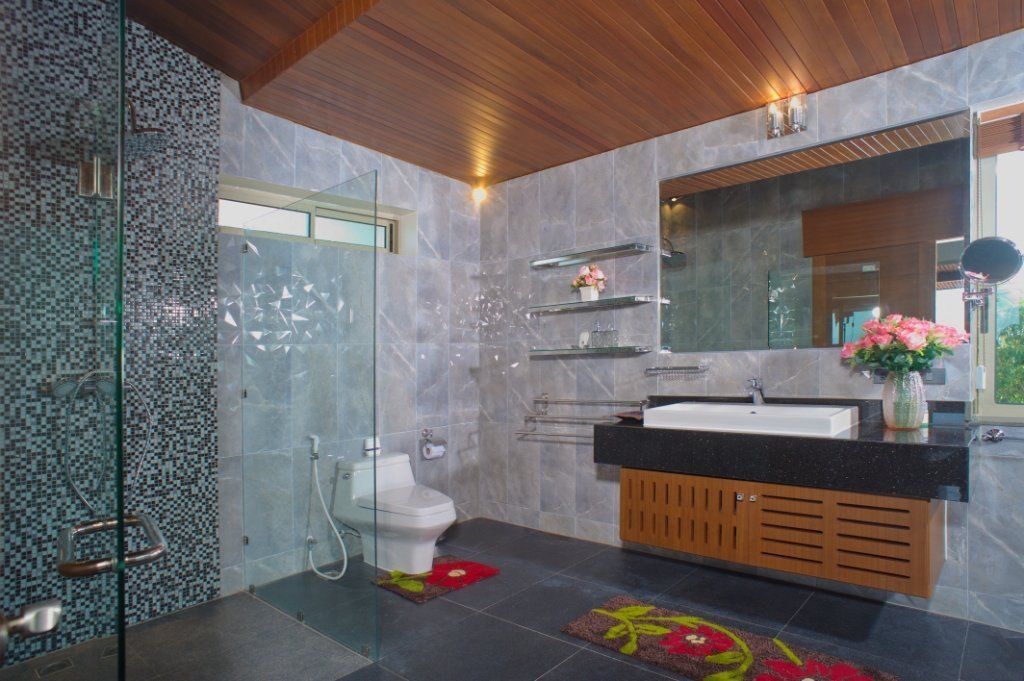 Price per month:
1 200 000

฿
This exquisite four storey villa with contemporary design is located in Bang Rak, in the north of the island. Its location on the top of a hill guarantees seclusion and privacy as well as a stunning panoramic view of the surroundings: mountains, palm groves and the blue sea beyond. That said, it will take you only 5 minutes to get to the airport and 10 minutes to get to lively Chaweng beach. The enormous total area of the villa (1,150 sq.m.) and a large number of bedrooms (thirteen), as well as an opportunity to rent separate floors make this villa an attractive destination for a group of friends, a corporate retreat, or for a celebration. The stylish furniture, fancy accessories and fine objets d'art will please even the most demanding guests.

The layout of the first floor includes three bedrooms, a living room and an open kitchen. The light-coloured walls are complemented by bright-coloured accents in the interior: purple, violet and crimson. Each bedroom features a double bed, a built-in wardrobe and private bathroom. The main bedroom also comes with its own living area (two comfortable red armchairs with a coffee table and a home theatre) and a dining area (a dining table with chairs and a stove-top). The living room is open to all the guests of the villa no matter which apartments they are staying in. The living room is essentially a spacious terrace under a sunshade with everything you may need to wind down and relax: upholstered furniture, vases with lush tropical flowers, maximum space and light from its open walled design. There is a large pool on the same level as the living room surrounded by an outdoor lounge area: there are comfortable sun-beds for sunbathing, a wooden gazebo for an afternoon nap in the shade and raffia furniture for tea-time with friends.

The second floor is the realm of warm, sunny colours with red decorative elements. The dwelling space here is divided into four bedrooms. Two bedrooms share one bathroom with a shower; the other two are en-suite. The spacious living room includes a kitchen and a dining area. The kitchen is fitted with all the necessary appliances including an stove-top , oven, and dishwasher, etc. The dining area comes with a table for eight guests. The living area is formed by a comfortable corner sofa and a TV. Another lounge area can be found on the balcony – also with upholstered furniture

The interiors of three bedrooms, the living room and the kitchen on the third floor are designed in natural yellow and brown shades. The furnishing of the living room features a wooden table and leather sofas; an open terrace comes with armchairs and a coffee table. The fully equipped kitchen lets you cook with pleasure and ease.

The penthouse comprised of three bedrooms on the fourth floor is a luxurious residence of particular comfort and beauty. It does not have a kitchen, but features an open terrace with a breathtaking view of the sea. Here you can enjoy the marvellous landscapes from exquisite interiors, which include double canopy beds, splendid full-wall paintings, a gorgeous en-suite bathroom attched to one of the bedrooms and a stylish bathroom shared between the other two.

Rent of one of the 4 floors with access to the private pool and the open plan living room and kitchen, but not the other floors (per month/per day):
1st floor – 150,000 ТНВ/8,000 ТНВ
2nd floor – 450,000 ТНВ/25,000 ТНВ
3rd floor – 350,000 ТНВ/18,000 ТНВ
4th floor – 250,000 ТНВ/12,000 ТНВ
Details
Price include: Cleaning 2 time per week, Electricity.
Price details
Seasons
Day
Month
Low seasons
70 000

฿

/ 13 bedrooms

1 200 000

฿

/ 13 bedrooms

Please be informed that rates are subject to change without prior notice unless you have confirmed reservation from Sun Way Samui. Kindly contact us to receive accurate rates for your period of stay before making the reservation.